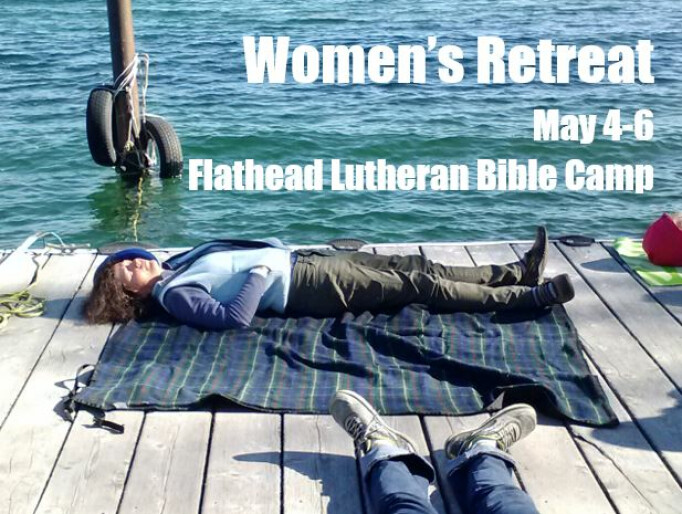 Women's Retreat
Play and Pray - A Women's Retreat
May 4-6 at Flathead Lutheran Bible Camp
Join us for Play and Pray–A Women's Retreat at Flathead Lutheran Bible Camp, May 4-6. Enjoy a weekend at Flathead Lake with other women from Holy Spirit. We'll gather on Friday evening, May 4th, and spend the weekend playing and praying together. Relax and connect with other women—enrich your friendships. Be inspired by stories and experiences of prayer. Learn about prayer practices, both new and ancient. Get in a canoe, try a paddle board, take a walk, kayak, dance, play a game, swim or hike to a beautiful vantage point around Flathead Lake. Consider the connections between praying and playing! We'll close the weekend after brunch on Sunday morning, heading home by 12 noon. The fee, $115, covers room, food and the use of all sporting equipment. Some financial assistance is available contact Registration and payment due by April 25th.
Sign up in the parish hall after services on April 8, 15, or 22, or online at www.holyspiritmissoula.org.
Due to scheduling difficulties this year's retreat is at Flathead Lutheran Bible Camp rather than Camp Marshall. We intend to return to Camp Marshall to enjoy their recent renovations in the spring of 2019. Sleeping accommodations at FLBC include some 1, 2, and 3-person rooms in addition to larger cabins that have bunk-style sleeping arrangements.
Register for the Women's Retreat after services on April 8, 15 and 22 or on the form below. After you complete the form, check this page to make sure you have received the message confirming that your registration has been received.