Retreat: Exploring Prayer through Word, Art and Movement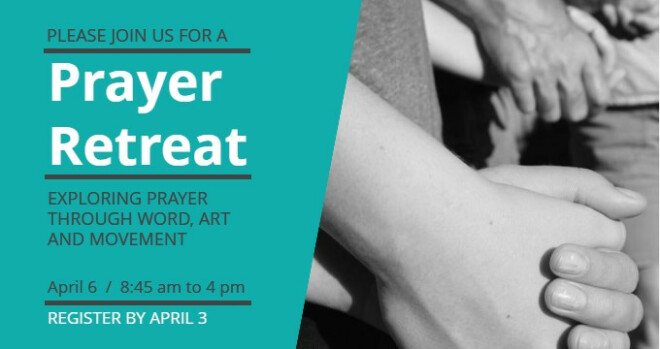 Saturday, April 06, 2019, 8:45 AM - 4:00 PM
Plan to attend this day-long retreat on April 6th here at Holy Spirit. Whether you are new to prayer, or you're looking to refresh your prayer life, this is a fabulous opportunity for all men and women in our parish. Three sessions in the morning will highlight different formats for prayer. Jody Thomasson and Betsy Holmquist will focus on The Book of Common Prayer, pointing us to some of its treasures and helping us to use it as a tool for our own prayer life. Willie Hoffer and Rev. Gretchen Strohmaier will discuss visual arts as a means to prayer. Suzy Wiseheart and Valerie Hess will share about movement as a doorway to prayer.
The afternoon is hands-on. Participants will choose two of the three experiential sessions to attend. Each session is 90 minutes long.
Practice using the tools within The Book of Common Prayer.
Learn how to create a soul collage. Or, practice responding to art as a means of prayer. All supplies will be provided. No art experience is necessary.
In our time together, we will begin to explore ways that prayer can be more "embodied" through movement, like walking a labyrinth or holding yoga poses.
When: Saturday, April 6th, 8:45 a.m. to 4:00 p.m.
Where: Holy Spirit Parish, starting in the Guild Room
Other Details: No fee. For adults, you're welcome to bring friends from outside the parish.
Registration: Please register by contacting Gretchen at 542-2167 or by April 3rd.
Bring: A sack lunch, a journal (if you have one), and your favorite book(s) on prayer or the spiritual life. We will display our books on the book look table (please put your name in your books) in order to share resource ideas with one another.