6 pm True Colors Training Series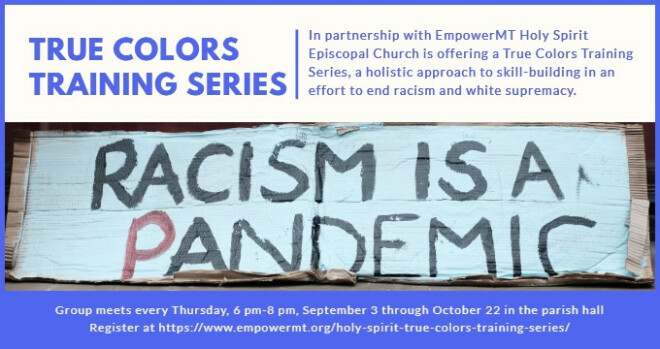 Every Thursday, from 09/03/2020 to 10/22/2020, 6:00 PM - 8:00 PM
TRUE COLORS WHITE ALLIES
Black Lives Matter. As people of faith we shout a resounding YES of course, and yet we know that inequalities and injustices continue to persist in our society. Additionally we are not only paralyzed about what actions will help, we may unwittingly be contributing to the injustice.
TRUE COLORS WHITE ALLIES is a program that provides the opportunity to take an up close and personal look at race, and to think together with members of your church family about how we can respond in both personal and systemic ways. Learn about the history of racism and the structures and systems that support racism through weekly group discussion and optional reading assignments outside of class time.
True Colors White Allies: Created for white-identity people who are interested in self-exploration, ending guilt, understanding invisible prejudices, deconstructing individual and institutional racism, and strengthening active allyship. This safe space provides room for we white people to make honest mistakes and to struggle with our own prejudices and misunderstanding without burdening or causing further harm to people of color. The True Colors White Allies series provides an opportunity for participants to examine their relationship to racism, exploring the ways whiteness operates on individual, interpersonal, cultural and institutional levels. This series bridges theory, critical reflection, and practice and aims to prepare participants to continue their own life-long learning with regard to deconstructing white dominance while developing the tools to be leaders in empowering others to do the same. The 8 week series will be weekly on Thursdays from 6:00-8:00pm beginning on September 3, 2020 and ending October 22, 2020. The group will meet in the parish hall, masked and socially distant.
This 8 week series, facilitated by Heidi Wallace, the Executive Director of Empower Montana is a commitment of both time and money. The fee for participation is $125. Scholarship funds are available; no one will be turned away due to lack of funds. Please speak with Rev. Gretchen about financial concerns. The group size is capped at 15, but several members of the church have already expressed interest in becoming trainers in the program. This would allow Holy Spirit to offer this workshop series in the future for members of the parish, so as to include everyone who has an interest in better understanding "white privilege". Register through the link below.
https://www.empowermt.org/holy-spirit-true-colors-training-series/
Wondering about why we would host a group for white people only? Check out this blog post by our own Professor Tobin Miller.
http://tobinmillershearer.blogspot.com/2020/06/the-discipline-and-practice-of-white.html