7 pm Stop the Bleed Training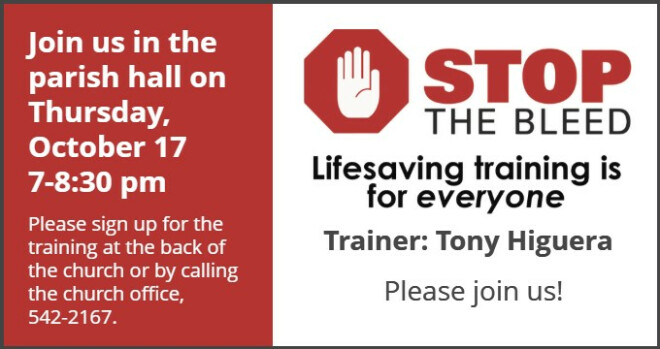 Thursday, October 17, 2019, 7:00 PM - 8:30 PM
Come and learn how you could provide life-saving treatment to a family member, a friend, a fellow worshiper or a complete stranger. This training will provide you with the skills to be "that difference" for an individual, that difference between life and death. Please sign up on the form at the back of the church.
Where: Holy Spirit Parish Hall
When: Thursday, October 17th
Time: 7 - 8:30 pm
Instructor: Tony Higuera
This is the second phase of our "active incident training" here at Holy Spirit. During our initial training Alain Burrese recommended that one of the most effective tools during and immediately following an active incident that results in an injury was a program called "Stop the bleed." Studies indicate that severe bleeding from an arm or leg is the single most preventable cause of death. This program addresses how we as fellow worshipers can stabilize and keep the injured person alive until they receive medical care from an EMT or a doctor at the hospital or other medical facility. Our ability to respond quickly and appropriately may be the difference between life and death.
Holy Spirit is very fortunate to have a trained "Stop the Bleed" instructor in our Parish. Tony Higuera has agreed to provide this training at Holy Spirit at no charge. Tony's program includes a 45-minute PowerPoint presentation and 45 minutes of practical training. The training has been scheduled for Thursday, October 17th, from 7-8:30 in the Parish Hall. We had a great turnout for the initial training, and we are hopeful for a similar response to this extremely valuable training. Please fell free to bring family and friends for this training; the more individuals who have this knowledge and training, the more likely it is that each of us will survive if we are ever in such an unfortunate situation.
Tony has requested an approximate number of individuals who are interested in this training so that he can schedule an appropriate number of trainers. If you are interested in attending this training, please sign up on the sheet at the back of the church.