Sock Drive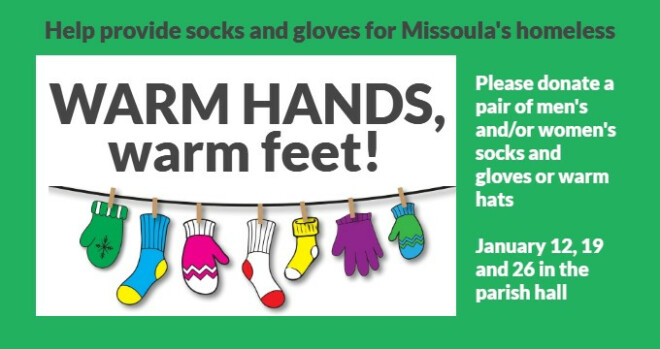 Every Sunday from 01/12/2020 to 01/26/2020
As you contemplate hanging your own Christmas stockings this holiday season, please remember those who are thankful simply for having warm socks to wear.
Once again, Holy Spirit will be conducting a drive for warm socks, hats, and gloves to donate to residents of the Poverello Center who spend many of their daytime hours in our cold, blustery winter weather. (For those new to our community, the Poverello Center provides shelter to men and women who are homeless in Missoula.) The drive will begin on Sunday, Jan. 12, and continue through Sunday, Jan. 26. That also is the date of our annual meeting so we hope you will "sock it" big that final day of the drive.
While we appreciate all donations, wool or synthetic socks are best. Please avoid cotton socks as they make feet perspire and leave the wearer with cold, damp feet!
Watch for additional publicity after the new year. Also, watch for those post-holiday, and even pre-holiday, sales that often include wintry items. As you pick up your own stocking stuffers, add a couple pairs of socks for our community's neediest members. Thank you for your generosity!
Lucia Solorzano Work
Social Concerns Committee