6:30 pm Lenten Series: The Way of Love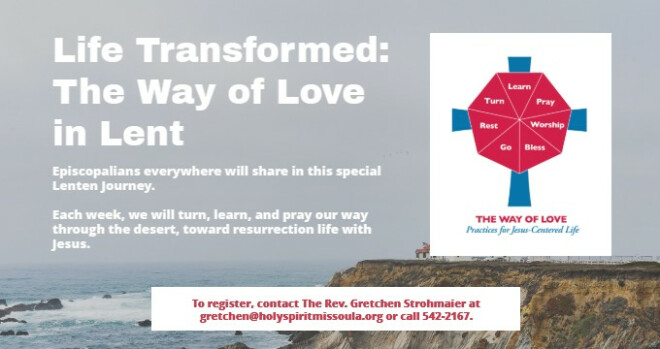 Every Thursday, from 02/18/2021 to 04/15/2021, 6:30 PM - 8:00 PM
Read the details for each session, including how to prepare
Everything is still different! In 2020 we grew weary of commenting on how unprecedented things were, and 2021 has begun with a similar sense of shock and disbelief. There has been and will continue to be much discussion about normalcy. What is normal? Is there any going back to normal? Must we push for some sort of new normal?
As we look back over this last year and try to forge ahead into a new one, we have decided to offer something quite different for our Lenten program in 2021. Why not? Everything else is still different. And it seems that these unsettling times call for a different response and new strategy. We ask you to consider participating in, "Life Transformed: The Way of Love in Lent."
This seven-session course will be offered via Zoom. As a nod to doing something different, the program will be offered on Thursday evenings, rather than our standard Wednesday night Lenten programs. The Way of Love, as you likely know, is an initiative of our Presiding Bishop, Michael Curry. We will use and adapt the curriculum created by The Episcopal Church.
The Presiding Bishop worked with others to develop the Way of Love. The Way of Love is comprised of ancient practices, because there really is nothing new under the sun, for deepening a Jesus-centered life. The aim of the initiative is to assist Episcopalians as we live out Jesus' call to: Abide in me as I abide in you. (John 15:4)
Each week Rev. Gretchen, Rev. Dorcie and others will present one of the seven practices, based in monastic wisdom: turn, pray, learn, bless, rest, worship, go. What makes these particular sessions different is that they will be coupled with themes of Scripture from the Easter Vigil service. Participants will be preparing to experience Easter as the weeks progress. The program is designed for six sessions prior to Easter and then one final session after Easter.
In addition to a short teaching piece each week, participants will break into small groups to discuss a specific Way of Love practice and the themes of Scripture. Each small group will have a facilitator. Each session closes with a brief liturgy. Additional practices for use at home will be suggested each week, as well as a variety of additional resources for deepening one's spiritual life.
Interested? Please do pray about participating in these sessions. Visit this website https://www.episcopalnewsservice.org/2018/07/06/79th-general-convention-july-5-sermon-by-presiding-bishop-michael-curry/ to watch a 30-minute video of Presiding Bishop Michael Curry as he introduces the Way of Love.
Who: Friends and members of Holy Spirit and St. Paul's (Hamilton). Do consider inviting others to join us wherever they live since this will be offered via Zoom.
What: Six sessions before Easter and one session after Easter.
When: Thursdays, 6:30 to 8:00 p.m., on February 18 & 25; March 4, 11, 18 & 25; and April 15 (no meeting April 1 or 8)
Where: Zoom
How: Contact Gretchen to sign up at: or 542-2167 ext. 203. Please sign up by Sunday February 14th.