Field Trip to Lee Metcalf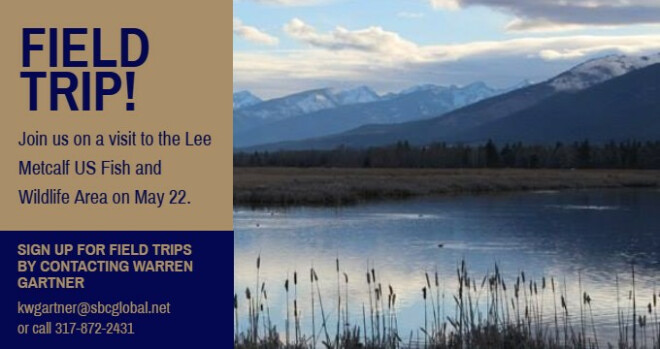 Saturday, May 22, 2021, 8:00 AM - 12:00 PM
The Creation Care Ministry is helping us live more sustainably by looking at practices at Holy Spirit and sharing information with our congregation which we can apply at home. They are also reaching out to other churches and organizations to partner in improving our communities and state.
Another goal of the ministry is to learn about and celebrate our beautiful environment here in this last best place. To that end, the ministry is offering a field trip each month to take us out to some of the unique local locations and events to enjoy nature. We will also offer opportunities to visit locations where we can learn more about living sustainably.
Our first field trip will be a visit to Lee Metcalf US Fish & Wildlife Area on May 22. The refuge is just north of Stevensville and is well marked on the highways. We should be able to catch the end of migratory birds passing through, as well as look for other local wildlife and spring flowers. We will meet at 8:00 AM in the parking lot of the visitor's center. We will have a spotting scope, field guides and binoculars which we will share. If you have your own, please bring them along. We will spend some time looking at the waterfowl in the large ponds by the visitor's center and then walk the hard surfaced nature trail behind the center.
Next, we will drive our cars through the refuge to the large parking lot at the nature trail along the Bitterroot River. Here we will walk a short trail that loops along the river and through the woods along other small ponds. Bring comfortable walking shoes and dress for the weather. Feel free to bring a snack or drink if you would like.
To sign up for this trip, so we know how many to plan for, please contact Warren Gartner at or call 317-872-2431.