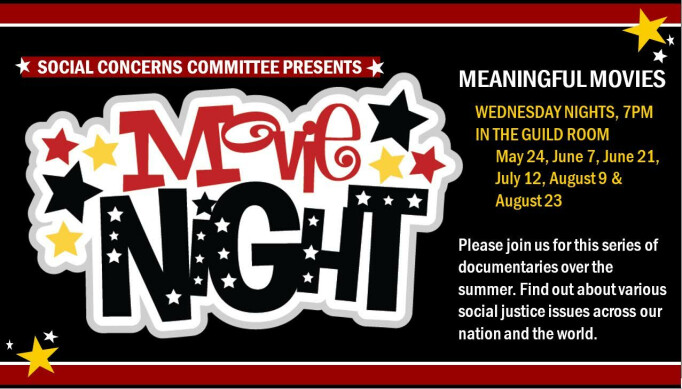 7 pm Meaningful Movie
Wednesday, July 12, 2017, 7:00 PM - 9:00 PM
Join us for "Meaningful Movies" this summer!
The Social Concerns Committee is planning a "Meaningful Movies" series of documentaries over the summer, so we can sit back, eat popcorn, socialize with our church family, and find out about various social justice issues across our nation and the world. Many of them will concern HSP's chosen focus of at-risk families and youth. Each documentary will be followed by a discussion led by one of the SCC members. So mark these Wednesday evenings on your calendar: May 24, June 7, June 21, July 12, August 9, and August 23.
July 12 movie: "A Bold Peace," directed by Matthew Eddy and Michael Dreiling. From its distributor, Bullfrog Films, comes this information:
"In 1948, Costa Rica dismantled their military establishment and intentionally cultivated security relationships with other nations through treaties, international laws, and international organizations. Free of the burden of military spending, they used the financial savings to invest in their people, creating strong public institutions including public higher education and universal health care. In short, Costa Ricans created a society committed to peace, solidarity, and international law. They have survived with safety and relative prosperity for nearly 70 years without a standing army.
A BOLD PEACE details the events which shook the country to its foundations, culminating in the 1948 civil war and the decision to abolish the military." The movie will be shown on Wednesday, July 12th, at 7 pm, and Carla Mettling will lead the discussion afterwards.