Our goal is to provide an open atmosphere where students can know that they matter. Where students can be honest, open, heard, and accepted. We do this in...
The QUEST class, for grades 6-9
QUEST, for 6th-9th graders, is offered during the 10:15 a.m. Sunday service, September-May, in the upstairs room across from the choir room. This class offers time for kids to get to know one another and discuss topics related to their faith. The class joins adult worship in time for Eucharist each week. Just a note: QUEST does not meet the first Sunday of each month so that kids can participate in the church service. Register for QUEST.
"Who are we? Why are we here? What is God like? How should we act in the world? "
Imagine being part of a pre-literate culture where sacred memory was passed through storytelling around a campfire. Who are we? Why are we here? What is God like? How should we act in the world? Storytelling has always been a way to explore these essential human questions.
This year in Youth Ministry, we're looking at the Bible as our campfire, the place where, for generations, people have gathered to tell the stories and ask these fundamental questions. In QUEST, each week we'll gather around our virtual campfire and share in this storytelling tradition. While in Youth Group and Confirmation, we'll explore faith-formation questions about the Bible, creeds, other world religions, and ethics.
You can register your children any Sunday in the QUEST room.
Confirmation Class for 7th-8th grade
Students are invited to start Confirmation beginning in 7th grade (and older). Confirmation will be a two-year process with an emphasis on connecting with parish life. For more information, please contact the Rev. Gretchen Strohmaier at .
Youth Group for 6th-12th grade
Youth Group for middle and high school usually meets the first and third Sundays of the month from 6-7:30 pm. We'll meet for fellowship, pizza, and discussion.
We have participated in service projects and in various outings. Anyone in grades 6 to 12 is welcome. We also team up with our friends at St. Paul Lutheran and First Presbyterian for occasional events.
Our Youth Group leader is P.J. Willett. Contact P.J. through the church office at 542-2167 or with questions about our Youth Ministry or to sign up for the Youth Ministry e-newsletter to keep you updated.
Camp Marshall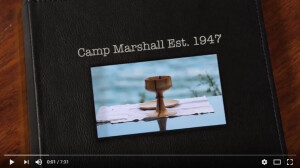 The Episcopal Diocese of Montana owns a beautiful camp on Flathead Lake which offers summer camp opportunities including Junior Middler for grades 3-8, Senior High Camp for grades 9-12, Adventure Week for grades 8-12, Family Camp, and retreat and rental opportunities. Click the picture at right to watch a video celebrating 70 years of Camp Marshall!
Camp Marshall is located near Polson along the west shore of Flathead Lake. More information about Camp Marshall, including next summer's schedule and registration information, can be found on the Camp Marshall website.