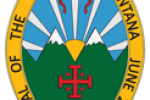 Diocese of Montana Newsletter, August 2017
Bishop's Corner
On July 29th, 2017 the Rev. David Gunderson retired. He has served the Upper Yellowstone Cluster as Rector for over twelve years. Well done, good and faithful servant!
Diocesan Convention – October 6-8, 2017 in Helena at St. Peter's Cathedral. Please click here to register for convention and hotel accommodations. Deadline is September 15, 2017. Please consider booking your hotel rooms as soon as you can as Carroll College's homecoming is the same weekend!

There will be an election for the following positions:

Diocesan Secretary
Diocesan Treasurer
Diocesan Council ( 2 Clerics & 2 Laypeople)
Standing Committee (1 Cleric & 1 Layperson)
Foundation Board (2 Clerics)

Click here for a nomination form (you may nominate yourself), to read bio's of nominees and duties & responsibilities of the various positions.

The annual clergy conference will be April 17-19, 2018, at Camp Marshall. The Rev. Dennis Mayard, author of "When Sheep Attack" and Those Episcopals" will be the presenter. His topic will be: Dealing with Difficult People."


Click here
to read the complete newsletter, including the following:
Around the Diocese: Breaking Ground at Camp Marshall
Episcopal Relief & Development: Sustainers Circle
Finance Corner, by Barb Hagen: Toxic Charity