Diocese of Montana Newsletter, December 2017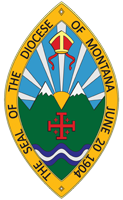 Bishop's Corner
The Rt. Rev. Glasspool will ordain the Rev. Hank Tuell, IV to the Sacred Order of Priesthood on December 2, 2017 at Trinity Church, Wall Street in New York, NY. Your prayers are requested.

Joint Evening Prayer will be on December 10, 2017 at St. Peter's Cathedral at 4:30 p.m.

The Rt. Rev. Brookhart will ordain Reagan Gonzalez to the Sacred Order of Deacons on December 21, 2017 at St. James' in Bozeman at 7 p.m. Your prayers and presence are requested.

****Clergy Conference, April 17-20, 2018 has been extended by one night so the consultant, Ann Hallisey, can meet with the clergy on Friday the 20th regarding the Search****.
Click here to read the complete newsletter, including the following:
Bishop's Corner
Around the Diocese
An update on the Search process for our new Bishop
Free Items from St. Matthew's in Glasgow
Provincial & Episcopal delegate named for March 2018 United Nations Commission on the Status of Women
Ecumenical: The World Council of Churches
Camp Marshall News
Congratulations! - Stewardship of Creation grant recipients
Finance Corner by Barb Hagen
Episcopal Relief & Development