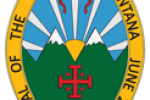 Diocese of Montana Newsletter, July 2017
Bishop's Corner
Diocesan Convention – October 6-8, 2017 in Helena at St. Peter's Cathedral. Please click here to register for convention and hotel accommodations. Deadline is September 15, 2017. Please consider booking your hotel rooms as soon as you can as Carroll College's homecoming is the same weekend!

There will be an election for the following positions:

Diocesan Secretary
Diocesan Treasurer
Diocesan Council ( 2 Clerics & 2 Laypeople)
Standing Committee (2 Cleric (1 will be for a one year unexpired term) & 1 Layperson)
Foundation Board (1 Cleric & 1 Layperson)

Click here for a nomination form (you may nominate yourself), to read bio's of nominees and duties & responsibilities of the various positions.
Click here to read the complete newsletter, including the following:
Around the Diocese: Bishop Brookhart announces his intention to retire
Ordination of the Rev. Sami Pack-Toner
Website Reminders: Church Newsletters
St. James', Lewistown: Blessing of the Quilts
Ecumenical
Episcopal Relief & Development
Finance Corner, by Barb Hagen