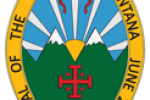 Diocese of Montana Newsletter, June 2017
Bishop's Corner
Funeral Service for the Rev. Jim Kelley is Friday, June 9th at 11 a.m. at St. John's Episcopal Church, 15 N. Idaho, Butte, MT.

Diocesan Convention is in Helena, MT October 6-8, 2017. Click here for hotel information. There will be an election for the following positions:

Diocesan Secretary
Diocesan Treasurer
Diocesan Council ( 2 Clerics & 2 Laypeople)
Standing Committee (2 Cleric (1 will be for a one year unexpired term) & 1 Layperson)
Foundation Board (1 Cleric & 1 Layperson)

Click here for a nomination form (you may nominate yourself), to read bio's of nominees and duties & responsibilities of the various positions.
Click here to read the complete newsletter, including the following:
Around the Diocese: St. Matthew's final service
Full communion between Episcopalians and Methodists
Episcopal Relief & Development
Holy Cross, Life-Giving Tree by the Rev. Donnel O'Flynn
A Decade of Love for Camp Marshall
eFormation Learning Community Conference
Ecumenical News
Camp Marshall
Finance Corner by Barb Hagen