Diocese of Montana Newsletter, November 2017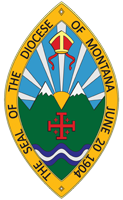 Bishop's Corner
The Rev. Mary Alice Jones is the new Disaster Coordinator for the Diocese of Montana. We thank The Rev. Donna Gleaves who served in this role last year.

The Rev. Jean Collins, St James', Lewistown and Mr. Clem Work, Holy Spirit, Missoula recently completed training in working with and resettling refugees. This training was offered by Episcopal Migration Ministries.

The Rev. Myrna Chaney has resigned from the Dean of the School for Deacons and is now Dean Emerita. Thank you for all your work, Myrna!
Click here to read the complete newsletter, including the following:
Around the Diocese: Books for Sale
Episcopal Relief & Development
Finance Corner by Barb Hagen
International Survivors of Suicide Loss Day
Archbishop of Canterbury's sermon at Reformation 500th Anniversary service
Doctrine of Discovery
Native Ministries Task Force
Camp Marshall News
Craig Wirth's presentation on Bishop Tuttle
Thanks to those who have finished terms of service for the Diocese
Congratulations to new appointees and elected members
All Saints' Columbia Falls mid-season Pentecost video
Claire's Campers
Letter from Bishop Gallagher: Native Ministries Task Force
Love God, Love Neighbor conference - Episcopal Migration Ministries