Hellgate High School and Parenting Place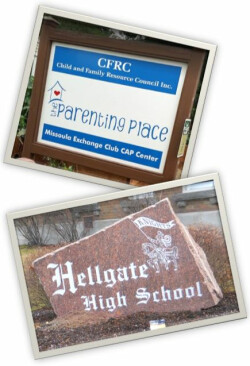 To join in building relationships with Hellgate High School and the Parenting Place, step one for all interested parishioners is to be up to date on the Safeguarding God's Children online education and a background check with the Diocese. Please contact Jill Sallin at to ready yourself to serve!
Hellgate HS and Parenting Place community Ministries -- Learn and Serve
Teresa Nygaard of The Parenting Place (PP) has recommended two resources to help us delve further into understanding Adverse Childhood Experiences and building resiliency for our children and young adults. I have a copy of each, so please contact me if you're interested in reading them ahead of or during April Awareness month:
The Deepest Well, by Dr. Nadine Burke Harris
The Body Keeps The Score, by Dr. Bessel Van Der Kolk
Planning for a winter work party at PP is underway, and there is currently an additional need for Bed, Bath & Beyond goods transporters and April Awareness activities volunteers.
At Hellgate, we continue to build out our resources to make Sparkle laundry services and haircuts at Shear Prophesy available to students in need. Ideas are also being discussed to make prom within reach for our students.
Please contact Anita or A'Lisa to be a part of our community ministries:
For The Parenting Place: The Rev. Anita Rognas --
For Hellgate HS: A'Lisa Scott --
Thank you for your prayers and support!
The Rev. Dorcie Dvarishkis
239-7655 cell/text

Church office phone: 406-542-2167