Community Ministries
Hellgate High School and The Parenting Place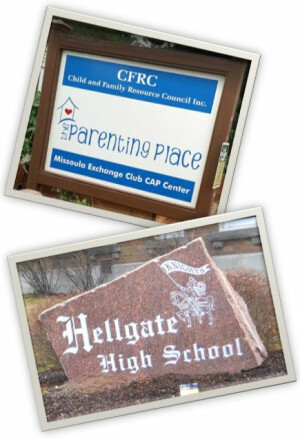 To join in building relationships with Hellgate High School and the Parenting Place, step one for all interested parishioners is to be up to date on the Safeguarding God's Children online education and a background check with the Diocese. Please contact Jill Sallin at to ready yourself to serve!
Upcoming Educational Opportunities:


Hellgate HS and Parenting Place Community Ministries – Resiliency
Missoula was recently home to its second annual Community Resilience Week, with programming that tackled resiliency-building through a variety of avenues. These skills are essential for us and for our Parenting Place and Hellgate neighbors to rise again and again from the life events that bring us to our knees. It struck me how important a church community can be as a base for building resiliency. Journeying together in the Word, worship, prayer, education and outreach ups our capacity for awareness, relationship, faith, hope and perseverance. A recent article by Rick Avent on resilience noted scientific conclusions "that resilience, or perseverance, is not a disposition or personality type. Rather, it is a skill set that can be learned, making it possible to not only endure trials but to thrive during and after them." Our church communities hold great potential as places where we can face and seek meaning in our stress and trauma, experience God's forgiveness, connect with a support network when life turns upside down, and build resiliency for moving forward. Thank you for being a people from which hope springs, and for moving in that hope as we serve in our community ministries and beyond.
Hellgate Celebrations and Needs:
Thank you to A'Lisa Scott for stepping forward as a coordinator for our Hellgate ministry!
After school volunteer tutors for Hellgate's Flagship program are needed. Please contact Hellgate Flagship's Emily Sandersfeld at 728-2400, x6071 for more details.
Gifts are being made to support the student/family laundry program at Sparkle. To add to this laundry account, make a gift to Holy Spirit, with reference to Sparkle. The church will issue a periodic check to Sparkle as gifts are made.
Parenting Place Celebrations and Needs:
Thank you to Rev. Anita Rognas for stepping forward as a coordinator for our Parenting Place ministry!
Hats off to Jennifer Walworth for engaging the Loyola High School Key Club members to wash the Respite program toys each month!
A group 13-strong from Holy Spirit, the Parenting Place Board and the Exchange Club came to Parenting Place November 3rd for our fall work party to prepare the grounds, gardens, files and office space for the coming months. Thank you to all!
Teresa Nygaard, Executive Director of the Parenting Place, will be offering a class on Darkness to Light child sexual abuse prevention in December. To learn more and to register, visit missoulaclasses.com, Take a Class.
For education and service opportunities, contact Rev. Dorcie Dvarishkis at 406-542-2167 or . Thank you for your support and participation!
The Rev. Dorcie Dvarishkis

Church office phone: 406-542-2167