Hellgate High School and Parenting Place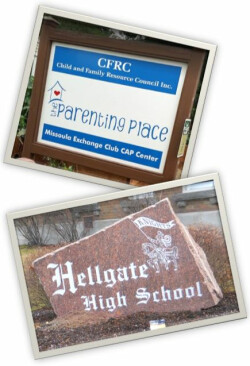 Thank you for exploring opportunities to get involved with Hellgate High School and the Parenting Place!
We ask that all our Community Ministry volunteers complete the Safeguarding God's Children online education and a background check with the Diocese. Please contact Jill Sallin at to ready yourself to serve!
At Hellgate in 2017-18, 72 students were identified as homeless (McKinney Vento Act). 30-35% of Hellgate students qualify for free and reduced meals. A growing number of refugee students are a part of the Hellgate school community.
Opportunities with Hellgate High School and their Family Resource Center (FRC):
Help with the end-of-the-school-year organizing of the FRC
Contact A'Lisa Scott at with your questions and ideas
Opportunities with The Parenting Place, 1644 S 8th St W:
Attend a free Adverse Childhood Experiences (ACEs) training on June 12 at the Missoula Public Library lower meeting room, 5:30 - 7:30 p.m.
Pray for the hiring team as we work to bring a new executive director to Parenting Place.
Volunteer to help with the vegetable and flower gardens.
Donate to and shop at Donation Warehouse, where a portion of every sale benefits PP programs.
Contact me with your questions and ideas.
Thank you for sharing of yourself in these ministries!
The Rev. Dorcie Dvarishkis

Church office phone: 406-542-2167