Hellgate High School and Parenting Place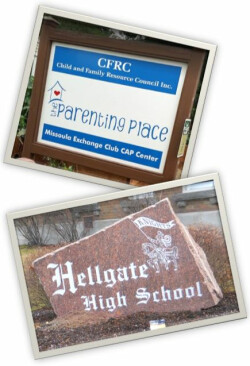 Thank you for your interest in our community ministry outreach with Hellgate High School and the Parenting Place!
We ask that all our Community Ministry volunteers complete the Safeguarding God's Children online education and a background check with the Diocese. Please contact Jill Sallin at to ready yourself to serve!
At Hellgate in 2017-18, 72 students were identified as homeless (McKinney Vento Act). 30-35% of Hellgate students qualify for free and reduced meals. A growing number of refugee students are a part of the Hellgate school community.
Opportunities to be involved with Hellgate High School and their Family Resource Center (FRC):
Be one of the bi-monthly shoppers for toiletry needs and snacks for the FRC
Be one of the monthly FRC aides to help Tracy with FRC needs
Participate in M.A.D. Mondays (Make A Difference Mondays) to supplement Hellgate's food pantry for students in need. Drop off a non-perishable, student-friendly item on Mondays at the front office.
Be a tutor or program participant in Hellgate's Flagship program - contact Arza Hammond at 728-2400 ext. 6071 or
Contribute to the church to support the laundry ministry at Sparkle and/or the haircut ministry
Supply snacks for special Hellgate student testing days in the Parish Hall
Join us at the church for Hellgate Sunday on October 20, 2019
Contact HSP ministry coordinator, A'Lisa Scott, with your questions and ideas by calling the church office at 542-2167
Opportunities to be involved with The Parenting Place, 1644 S 8th St W:
Volunteer for a quarterly PP work party - the next is Friday, September 27, noon - 3 pm
Be one of the weekly transporters of Bed, Bath & Beyond donations that benefit PP families - a pickup or larger vehicle is needed for this ministry
Be one of the monthly Respite Care toy cleaners
Gather your friends and volunteer for one of the monthly PP/Annex general cleaning days
Be a grocery shopper for Respite Care meals
Sign up for a 15-week Parenting Class - email Ivy Anderson at for the class schedule
Donate to and shop at Donation Warehouse, where a portion of every sale benefits PP programs
Volunteer for the April Awareness team to help promote strong families and healthy childhoods
Contact me with your questions and ideas by email or through the church office
Thank you for considering becoming a member of our community ministries team!
The Rev. Dorcie Dvarishkis

Church office phone: 406-542-2167