Mission to Mandalay 2.0
In our most recent project, our volunteers travelled to Myanmar in January 2018 to teach spoken English to teachers in Myanmar, continuing with a helping project through Studer Trust, an NGO that builds schools and trains teachers in Myanmar. Read our volunteers' blog.
After their return, we welcomed them back, heard about their experiences, and enjoyed an Asian dinner, where we also raised funds to send 125 school children in 5 rural Myanmar schools on field trips to visit several historical sites and events they would not otherwise experience. Students there are limited to classroom learning and a few books. Many do not travel beyond walking distance of their villages. Several day trips will enable them to experience the geography, history and life in Mandalay and other cities and historic sites for a holistic education.
Our Myanmar Projects with Student Trust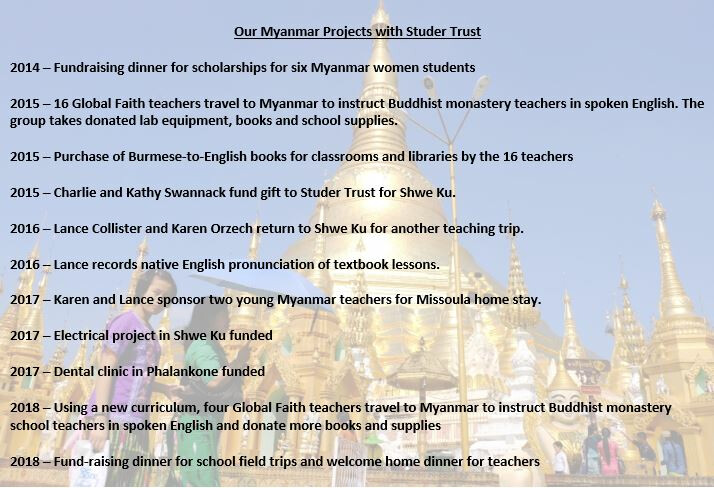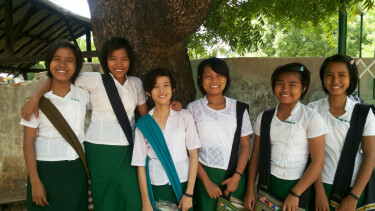 2014: We held a fundraising dinner to help six high school girls in Myanmar prepare for and pass their matriculation exams and attend college. When we met them again in 2018, all of them had passed their matriculation exam, and five were working as teachers at Shwe Ku (one of the schools where our volunteers taught in 2015) while attending college by distance learning.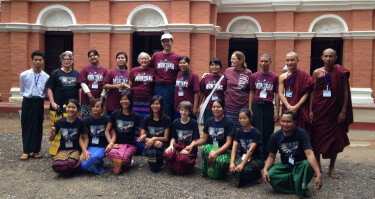 2015: 16 Global Faith teachers went to Myanmar on a three-week teaching mission. The task of the volunteers was to help teachers adopt a method of teaching English, in English, to young students, using an approach rich in songs and games, a sea change from the traditional lecturing and rote memorization. Our volunteers taught in four different monastic schools: two are very rural, about 3 hours south of Mandalay; the other two are much closer to Myanmar's second-largest city.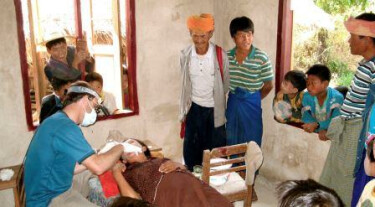 2017: We funded a dental clinic in Phalankone, where some of our volunteers taught in 2015. Phalankone is more off the beaten path than Shwe Ku but serves a larger population; dental care is critically important in this rural area. We also participated in the ribbon-cutting ceremony for the project at Shwe Ku school to improve their electricity, important for both lights and also the well pump and fresh water.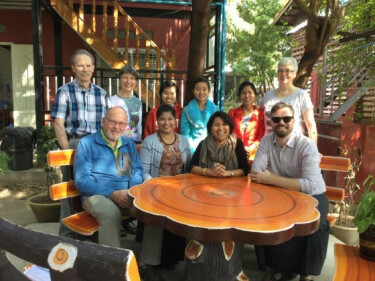 2018: Four volunteers from Holy Spirit returned to Myanmar to teach in two rural monastic schools. Their goal again was to help young English teachers improve their fluency and learn more student-centered techniques. Better English is a key to career or academic advancement in Myanmar, and although it is taught in the schools, most people cannot put together a simple sentence. The teachers are eager to work with native English speakers.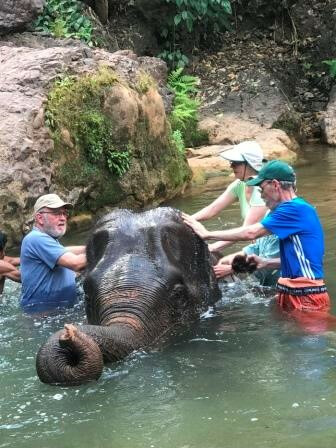 On this trip, our volunteer teachers also visited Green Hill Valley, a retirement home for elephants who worked in the teak forests and now roam the forest. The elephants spend 6 hours per day in the camp, where our volunteers helped to feed and bathe seven old girls in their 60s and a 10-year-old orphan male. Our volunteers were impressed by the elephants' gentleness and appreciation.