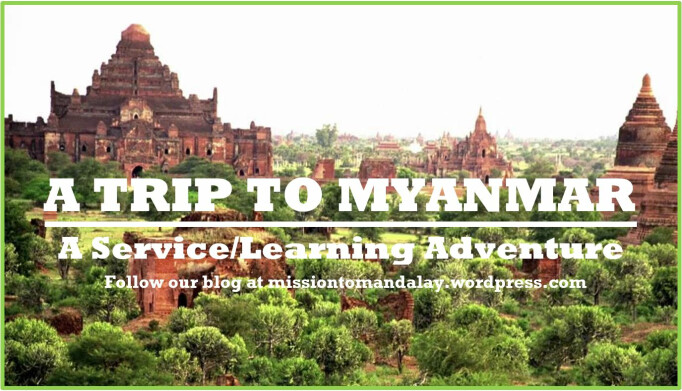 Mission to Mandalay
What was once a distant dream is about to become reality! 16 volunteers, all but two of them from Holy Spirit, are currently in Myanmar on a three-week teaching mission. Visas in hand and arms a bit sore from vaccinations, the travelers boarded their plane on the afternoon of October 20 and arrived in Yangon, Myanmar's largest city, in a mere 35 hours. After an overnight in Yangon and a brief visit to the famed Shwedagon Pagoda the next morning, the group flew to Mandalay in the center of the country. There, the volunteers dispersed in groups of four to four different monastic schools. Two are very rural, about 3 hours south of Mandalay; the other two are much closer to Myanmar's second-largest city.
The task of the volunteers is to help teachers adopt a method of teaching English, in English, to young students. Using an approach rich in songs and games, a sea change from the traditional lecturing and rote memorization, the group hopes to model a more effective method of English teaching. (Volunteers in training, shown at right.) Working in teams of two, the volunteers will teach for four hours per day. Studer Trust, the NGO that Holy Spirit is working with on this project, builds schools and trains teachers in Myanmar. It is the same non-profit that Holy Spirit raised more than $12,000 for last year, to help six high school girls (photo below) pass their matriculation exams and attend college. It was the work on that fundraiser that led to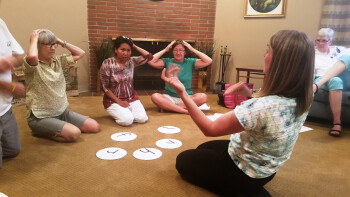 parishioners' interest in going to Myanmar and doing some meaningful work to help improve what has been an abysmal education system neglected by a military junta for decades.
There's some fun built into the trip as well. After they have completed their teaching stint, the volunteers will go on a four-day sightseeing trip by car, train and riverboat into the Shan Hills northeast of Mandalay. A few of the volunteers will stay on to see other sights.
Group members will be contributing to a blog—when there's electricity, that is! The address is missiontomandalay.wordpress.com.
Here is a photo of volunteer Patti Beckley teaching an interactive game to teachers and one of Carla Mettling with the girls who received scholarships: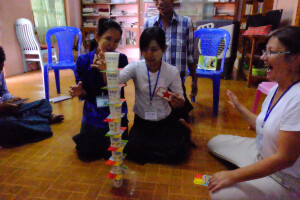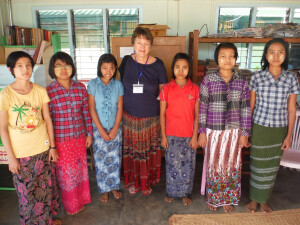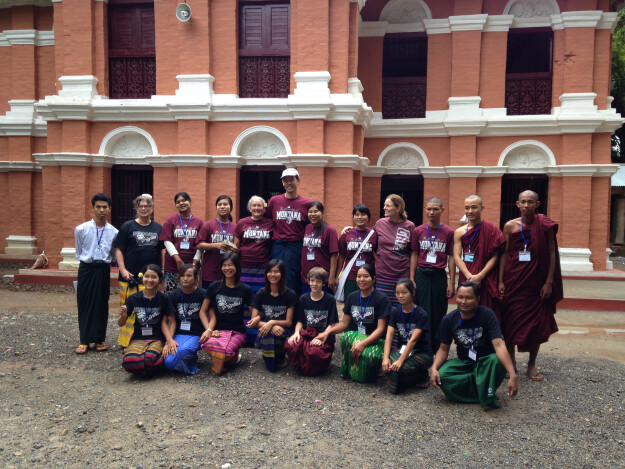 How we got started: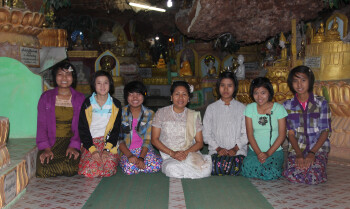 The photo at right shows Chocho Lwin of Studer Trust and six girls who are receiving scholarships to further their education, supported by Holy Spirit through our dinner and silent auction, Burma: Soul Food of South Asia. Two years ago we began studying global concerns here at Holy Spirit. We learned that one of the biggest humanitarian crises of our time is the treatment of women around the world. Perhaps the most important solution is the education of girls and women. In many places around the globe, there is little if any social support for girls to be educated, and in fact, a lot of pressure socially, and financially, to keep girls at home. It became clear to our Global Faith group that supporting education for girls was a winning strategy for many reasons.
We did some research about ways to get involved and ultimately chose Studer Trust for their 11-year track record building schools and fostering students in Burma (now called Myanmar). Through Studer Trust we learned about 6 girls in need of financial support to continue their education. These girls have been good students through elementary and high school, but they come from poor families and the pressure to leave school and help with family responsibilities is great. With our support, these girls will gain access to outside tutors which will supplement the poor education they receive in their substandard government school, helping them to obtain the certificate required to enter the skilled work force or prepare for university education. Click here to read an article published by Studer Trust in their Annual Report.