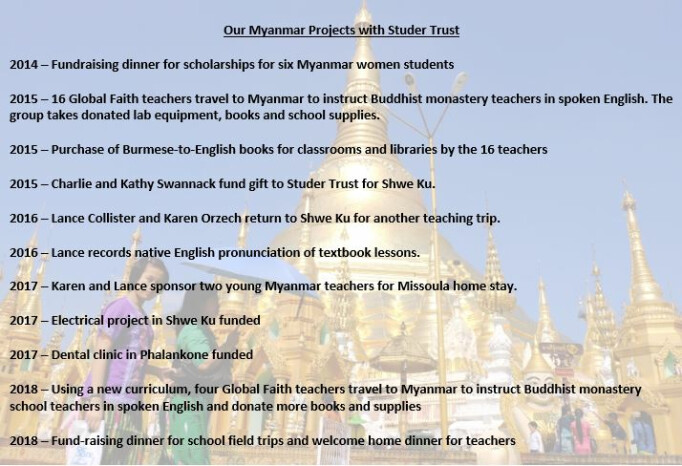 Mission to Mandalay

Mission to Mandalay 2.0
Four volunteers travelled to Myanmar in January 2018 to teach spoken English to teachers in Myanmar, continuing with a helping project through the Studer Trust. Follow their blog here, and join us March 4 in the parish hall to hear about their experiences, enjoy Asian food, and help us raise funds to send school children in 5 rural Myanmar schools on field trips to visit several historical sites and events they would not otherwise experience (more details here).
In November, Clem Work shared the following thoughts about the trip on the blog:
Myanmar has been in the news a lot lately, and not in a good way. The cruel treatment of Rohingya Muslims in the western part of the country, causing hundreds of thousands to flee to neighboring Bangladesh, has dominated the news about Myanmar. Rightly so, because the actions of the country's military, backed by right-wing Buddhist militants, have been revolting and without justification, even given the country's complex history of sectarian relations.
I and four other volunteers, meanwhile, have trained for and are going in early January on our second teaching mission to central Myanmar, to two rural monastic schools, Shwe Ku and Le Paw (see map on About page). Our goal, as it was in 2015, is to work with young English teachers, helping them improve their own conversational fluency and also helping them incorporate more student-centered teaching into their work, an antidote to the rote and repetition routine that stifles learning in Myanmar. Better English is a key to career or academic advancement in the country, even though it's not officially a second language. English is taught in the schools, but that doesn't mean most people can even put together a simple sentence.
I realize that whatever I accomplish is like throwing a tiny pebble into the mighty Ayeyarwady River, in terms of improving education in Myanmar, which was deliberately starved for decades by the ruling military until reforms began in 2011. But by the same token, what I accomplish by my very presence in the lives of a handful of poor, young teachers–many of whom have never even heard a native English speaker in real life–can be huge. I know, because I have seen and felt it, the sincerity and eagerness of the teachers to learn more and to improve their English. Their loving-kindness in welcoming us and caring for us–known as metta in Buddhist belief–is a quality of the heart that speaks volumes. If I can work with young people in that atmosphere, that makes it pretty easy to fulfill Jesus' command of Love Thy Neighbor. Also, aiding the work of Studer Trust, an excellent, small non-profit that builds schools and trains teachers in Myanmar, is so rewarding because its people make us feel valued and appreciated.
So what I hope to accomplish is pretty simple. I'm not out to save a country. I'm not out to save souls. I'm certainly not out to help the government any more than the 50 bucks I'm paying for a visa. I'm in it for the metta. Clem Work
You can follow the blog here:
https://missiontomandalay.wordpress.com/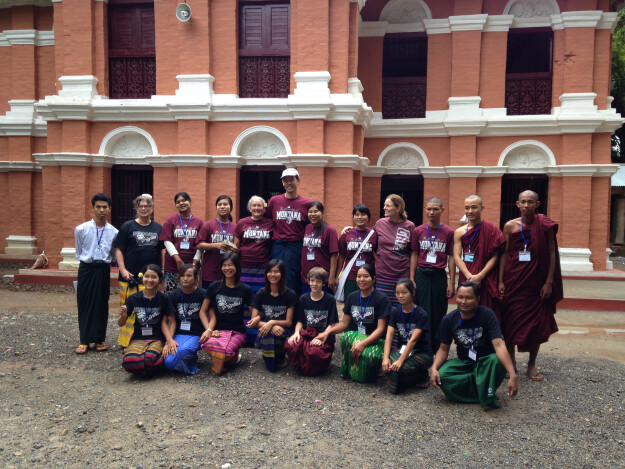 How we got started: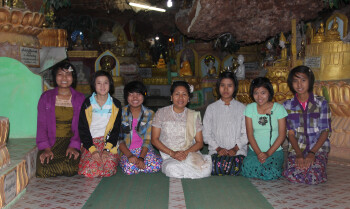 The photo at right shows Chocho Lwin of Studer Trust and six girls who have received scholarships to further their education, supported by Holy Spirit through our dinner and silent auction, Burma: Soul Food of South Asia. When we began studying global concerns here at Holy Spirit, we learned that one of the biggest humanitarian crises of our time is the treatment of women around the world. Perhaps the most important solution is the education of girls and women. In many places around the globe, there is little if any social support for girls to be educated, and in fact, a lot of pressure socially, and financially, to keep girls at home. It became clear to our Global Faith group that supporting education for girls was a winning strategy for many reasons.
We did some research about ways to get involved and ultimately chose Studer Trust for their 11-year track record building schools and fostering students in Burma (now called Myanmar). Through Studer Trust we learned about 6 girls in need of financial support to continue their education. These girls have been good students through elementary and high school, but they come from poor families and the pressure to leave school and help with family responsibilities is great. With our support, these girls will gain access to outside tutors which will supplement the poor education they receive in their substandard government school, helping them to obtain the certificate required to enter the skilled work force or prepare for university education. Click here to read an article published by Studer Trust in their Annual Report.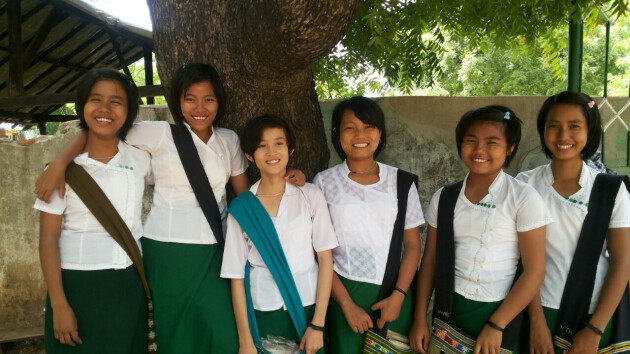 What was once a distant dream became reality! 16 volunteers, all but two of them from Holy Spirit, went to Myanmar on a three-week teaching mission. Visas in hand and arms a bit sore from vaccinations, the travelers boarded their plane on the afternoon of October 20 and arrived in Yangon, Myanmar's largest city, in a mere 35 hours. After an overnight in Yangon and a brief visit to the famed Shwedagon Pagoda the next morning, the group flew to Mandalay in the center of the country. There, the volunteers dispersed in groups of four to four different monastic schools. Two are very rural, about 3 hours south of Mandalay; the other two are much closer to Myanmar's second-largest city.
The task of the volunteers was to help teachers adopt a method of teaching English, in English, to young students. Using an approach rich in songs and games, a sea change from the traditional lecturing and rote memorization, the group hoped to model a more effective method of English teaching. (Volunteers in training, shown at left.) Working in teams of two, the volunteers will teach for four hours per day. Studer Trust, the NGO that Holy Spirit is working with on this project, builds schools and trains teachers in Myanmar. It is the same non-profit that Holy Spirit raised more than $12,000 for in 2014, to help six high school girls (photo below) pass their matriculation exams and attend college. It was the work on that fundraiser that led to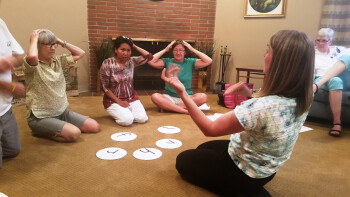 parishioners' interest in going to Myanmar and doing some meaningful work to help improve what has been an abysmal education system neglected by a military junta for decades.
There's some fun built into the trip as well. After they have completed their teaching stint, the volunteers went on a four-day sightseeing trip by car, train and riverboat into the Shan Hills northeast of Mandalay. A few of the volunteers stayed on to see other sights.
Group members contributed to a blog—when there was electricity, that is! The address is missiontomandalay.wordpress.com.
Here is a photo of volunteer Patti Beckley teaching an interactive game to teachers and one of Carla Mettling with the girls who received scholarships: