Check our calendar for our current book study groups -- click on the ones that interest you for contact information and information about how to order the books. For an overview, see below.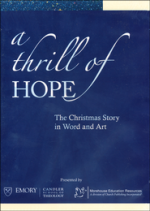 A Thrill of Hope Sunday mornings during part of Advent & Epiphany December 10, 17 & Jan 7
Back by popular demand! Join Bonnie Lee and Holly Swartz for this DVD study for adults, presenting the familiar story of Christmas (and Epiphany) as told in the gospels of Matthew and Luke. Each scripture passage is illustrated and interpreted in the stunning artwork of John August Swanson along with commentary by some of America's premier Biblical scholars, names such as Dr. Thomas A. Long, Dr. Michael Joseph Brown, Dr. Carol A. Newsom and more.
This class is a lovely addition to your Advent, no reading or study required. Come. Enjoy the artwork and the music as presented on the DVD. Reflect through the artist's eyes on this most familiar Bible story and be surprised and inspired in new ways. Each participant receives his or her own discussion guide with full color images of the art.
Sunday morning 9:00 – 10:00 am in the Guild Room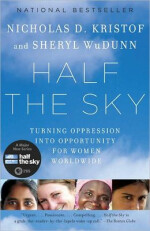 There are now copies of Half the Sky, by Nicholas Kristof and Sheryl WuDunn in the Church office for any parishioner to borrow, as well as one copy of the PBS video Half the Sky, that amplifies the book's ideas. If you didn't have a chance to join one of our book studies on this important book, now you can read it on your own. It's impossible to praise it too much as an indispensable education on poor women's plight in Sub-Saharan Africa, India, Southeast Asia, and the Middle East, how best to help them, and the inspiring leaders working to do so.