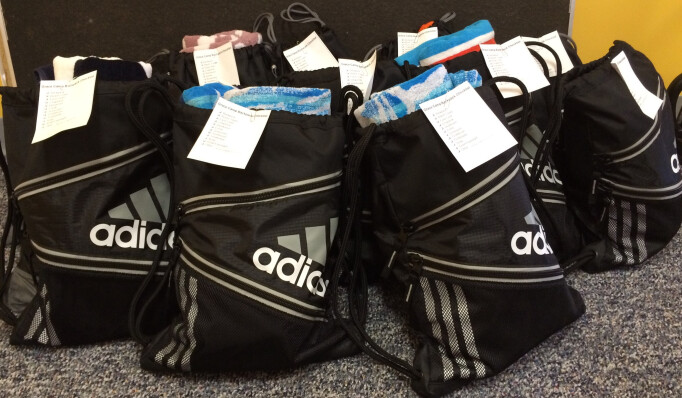 Outreach
We take seriously our call to follow Jesus in caring for the marginalized and poor, by working for justice and peace. We also share in the work of the Diocese of Montana and the larger church through our diocesan assessment. Apart from our assessment, all of our outreach comes in the form of volunteer hours, projects funded by the Memorial Foundation and special offerings. The urge to help stirs us to action over and over.
Social Concerns Committee
At Holy Spirit, social concerns is integral to mission and our congregation. The Holy Spirit Memorial Foundation provides funding to the Social Concerns Committee to manage in support of outreach projects chosen by the Committee and approved by the Vestry. In recent years, we have sponsored a number of outreach programs that benefit our Church, the local community and the world at large such as Partnership Health Center (since 2003), Missoula Food Bank, Montana Food Bank Network, The Parenting Place and Red Cross in Missoula, a school and clinic in Haiti, an Episcopal parish in New Orleans devastated by Hurricane Katrina, and a medical clinic in Zambia. Holy Spirit initiated a Three Faiths series with Jews, Muslims and Christians sharing meals, conversations and service projects at the Montana Food Bank Network--this program proved so successful that it has become a larger, communitywide event series sponsored by Missoula's faith organizations and the University of Montana.
Giving Grants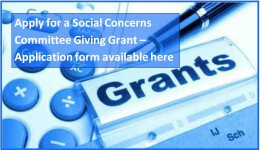 Your Holy Spirit Social Concerns Committee seeks to broaden our impact by supporting causes embraced by our parishioners. Toward that end, we intend to fund small grants (up to $300) and invite our parishioners to submit proposals using a brief application form. We look forward to learning about your interests at the local, state, national or international level.
The Social Concerns Committee sincerely appreciates the positive response to our Butterfly Grants. Parishioners have submitted grant proposals that ranged from the development of musical CDs for care at the end of life, to small libraries, to gift cards for individuals released from prison to leveraging $300 into $900 to clothe children without appropriate winter wear (the entire list can be read in the annual report). Thank you for your varied and creative proposals. Your SCC reviewed the program and have enthusiastically endorsed it for this year. We have $1800 which we have committed to the Butterfly Grants. Click here for 2018 deadlines and application form. The grant proposal form is available in the office and on the website. We look forward to reading the proposals from all the caring and gifted individuals who occupy the pews of Holy Spirit Parish, thank you again. Click here to read about one example of a Butterfly Grant project.
Scholarships for Burmese Girls
The photo at right shows Chocho Lwin of Studer Trust and six girls have received scholarships to further their education, supported by Holy Spirit through our dinner and silent auction, Burma: Soul Food of South Asia. When we began studying global concerns here at Holy Spirit, we learned that one of the biggest humanitarian crises of our time is the treatment of women around the world. Perhaps the most important solution is the education of girls and women. In many places around the globe, there is little if any social support for girls to be educated, and in fact, a lot of pressure socially, and financially, to keep girls at home. It became clear to our Global Faith group that supporting education for girls was a winning strategy for many reasons.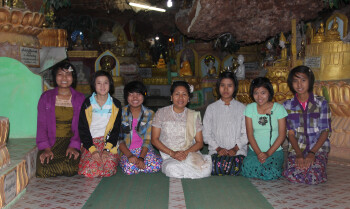 We did some research about ways to get involved and ultimately chose Studer Trust for their 11-year track record building schools and fostering students in Burma (now called Myanmar). Through Studer Trust we learned about 6 girls in need of financial support to continue their education. These girls have been good students through elementary and high school, but they come from poor families and the pressure to leave school and help with family responsibilities is great. With our support, these girls will gain access to outside tutors which will supplement the poor education they receive in their substandard government school, helping them to obtain the certificate required to enter the skilled work force or prepare for university education. Click here to read an article published by Studer Trust in their Annual Report.
In fall 2015, a group of 16 volunteers travelled to Myanmar on a three-week teaching mission. The task of the volunteers was to help teachers adopt a method of teaching English, in English, to young students. Using an approach rich in songs and games, a sea change from the traditional lecturing and rote memorization, the group hopes to model a more effective method of English teaching. Studer Trust, the NGO that Holy Spirit is working with on this project, builds schools and trains teachers in Myanmar. Since then, Holy Spirit has continued to develop and strengthen our connection with Studer Trust, supporting teaching and dental care. Click here to read more.
Partnership Health Center
One of Holy Spirit's greatest contributions to the community comes through the hundreds of hours of volunteer time given by Holy Spirit parishioners to Partnership Health Center, which offers critical access to affordable health care in the Missoula community. Last year Holy Spirit volunteers donated 2,000 hours at Partnership.
Habitat for Humanity of Missoula
Holy Spirit is participating in the Good Neighbor Build for the third time, raising funds for Habitat homes and helping to build them. If you recycle your aluminum cans here, those funds also go to Habitat.
Missoula Food Bank
Every Sunday donations to the Missoula Food Bank can be made in the little manila envelopes found in the pew.
Haiti Shoeboxes
In partnership with the Social Concerns Committee, for the last three years the Church School children have packed shoe boxes for Haitian school children. The boxes are filled with all kinds of small toys, hats and sports caps, school supplies, hair accessories, small bars of soap and washcloths, and are distributed to children in Haiti at Christmastime through Bethlehem Ministry. Read more about this program and details of what to include on the website of Bethlehem Ministry: see Shoe Box Ministry under Programs.
Christmas SOCKing
In December, Holy Spirit held its first "Christmas SOCKing" event. We collected clean, used or new men and women's socks, as well as donations of clean new or used men's and women's gloves. All socks and gloves donated were given to the Poverello Center for distribution to Missoula men and women who spend many of their winter hours outdoors.
Red Cross Blood Drive
Each February Holy Spirit hosts a Red Cross blood drive in our parish hall.
Episcopal Relief & Development (ERD)
The birthday and anniversary offerings are collected throughout the year and donated to Episcopal Relief and Development's Global Needs Fund. The Global Needs Fund allows Episcopal Relief & Development to fight poverty and disease worldwide by helping people sustain healthier, safer and more productive lives. Other collections for ERD are taken occasionally in response to disasters. You can read more about Episcopal Relief and Development at www.episcopalrelief.org.
United Thank Offering
The United Thank Offering is a program of the The Episcopal Church for the mission of the whole church, founded and administered by women since 1889. The UTO Committee is a spiritual and financial partner in the mission work of The Episcopal Church, through every person in every pew. It is entrusted to promote thank offerings, to receive the offerings and to distribute the monies collected through grants ranging from small amounts to major contributions. Although these grants serve our church missions internationally, their impact has also been felt in our own diocese through a $40,000 grant to Partnership Health Center here in Missoula a few years ago.
Emmaus Campus Ministry
A Christian community that is committed to social justice, care of the environment, and working with marginalized people, which values conversations and questioning over convicted belief, and helps students find their own place and path in life. Emmaus Campus Ministry helped found the Interfaith Collaborative, which encourages churches to work together to solve social issues. Holy Spirit has been a partner in Emmaus Campus Ministry for many years and has participated in various fund raising events including the annual Oktoberfest celebration. Read more about Emmaus Campus Ministry.