Explorations
Watch our calendar and the Spirited Times for more information about these opportunities.
Book Study Groups
A variety of book study groups are offered throughout the year. Check our calendar and click on the ones that interest you for ordering information and contact information.
Scribes, Scripts and Scrolls, Parchment and Papyrus: The Bible from Then until Now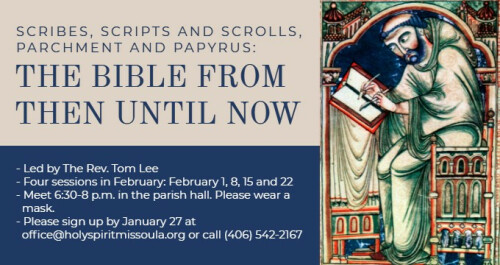 Centering Prayer
We invite you to gather to practice an ancient method of "being still" and going to your "inner room" and entering into silent prayer in which we quiet our minds and open ourselves to our God. Centering Prayer is not meant to replace other kinds of prayer, but rather it often casts a new light and depth on the meaning of them. Please check our Centering Prayer page for more information. If you have any questions, please call Willie Hoffer, or contact her through the church office at 542-2167 or .
Centering Prayer is a meditation process that invites us to enter an inner sacred space to quiet our minds, open our hearts and take rest in the Love of God. You will be gently led into the silence. No experience needed!
Women's Retreat
We have had a wonderful time at our Women's Retreat each fall at Camp Marshall on beautiful Flathead Lake. Watch for information about our next retreat.
Inquirers' Class
A series of classes designed for adults who wish to explore what it means to be a Christian in the Episcopal tradition. It is ideal for those who would like to engage their faith more fully, deepen their understanding of the Episcopal Church, or who are seeking to be confirmed or received into the Church. If you are interested in an Inquirers' Class, please contact Rev. Terri at for more information.
Emmaus Campus Ministry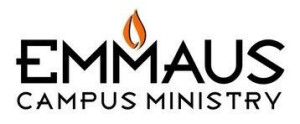 Emmaus Campus Ministry at the University of Montana offers a variety of worship services, dinners, discussions, service opportunities, and fun activities to university students and young adults to engage young adults to find their place and passion in life. All perspectives are welcomed! Emmaus Campus Ministry is an open and empowering ministry sponsored by the Evangelical Lutheran Church of America (ELCA) in partnership with the Episcopal Church and the United Church of Christ and is welcoming of all! Led by Pastor John Lund and located at 538 University Avenue; phone 396-4974. You can read their recent newsletter here. Check the Emmaus website for a full schedule of all their activities: www.ecmum.org.