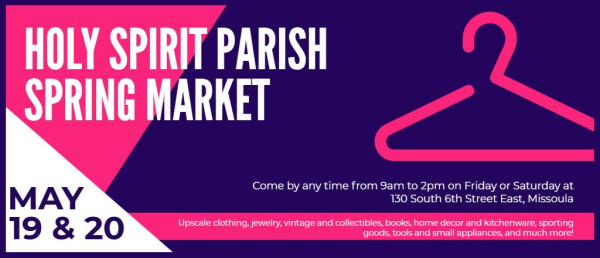 2023 Spring Market Wrap-Up
What a week it was. And thank yous continue to pour in. Hundreds of customers perused and purchased your incredible donations on Friday and Saturday, May 19 and 20, with sales totaling more than $5,200. Blue aproned Volunteers greeted each guest, helped with purchases, and kept the sale areas beautiful and buzzing. From outdoor sporting goods and an antique treadle sewing machine, to indoor designer and vintage clothing. From smartly displayed linens, glassware, books, and jewelry to fashionably adorned dress forms, the two-day sale brought smiles to all who entered. And if you were there at noon on Friday, a toe-tapping accordion concert! Suddenly it was Saturday afternoon - time to load up the unsold items for yet another venue. Mary Tromly's sister, Liz, had driven her horse trailer across the state, ready for a return trip to the Senior Center in Lodge Pole on the Ft. Belknap Reservation with all the remaining items. Already their thank yous have arrived.
Best, could be, however, the comradery and laughter shared among the volunteers who arrived each day of sale week. Add to that the generous and yummy meals brought in daily by our lunch providers. The strength and talents of those who arranged displays, set up, hauled, walked up and down countless stairs, saw and solved a need before it was even voiced. And, especially to Marva Gallegos, whose leadership and calm demeanor made everything work smoothly. Thank you. Thank you. Donors. Shoppers. Workers. You who sent your prayers. This year's Spring Market succeeded thanks to all of you.
Looking toward next year's Spring Market - the perfect opportunity for you to lighten up your living spaces! It's time to take a clean-out, tidy-up journey through your home, garage, basement or storage unit. Lighten up your life by donating to Holy Spirit. Blessings all around.
What to set aside for next year - Just your best (clean, unbroken, usable) items listed below:
Vintage and Boutique Clothing – women's and men's

Accessories and Jewelry
Home Décor
Glassware & Kitchen
Linens
Books (no manuals, encyclopedias, or tapes)
Sport and Camping Equipment
Luggage
Pet Accessories
Gardening & Outdoor / Healthy Plants
Small Furniture