Church School 2020-21: God goes with us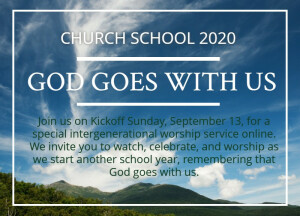 God Goes With Us: Church School 2020
Kick-Off Sunday is September 13th and though we won't be meeting in person we will celebrate the beginning of another Church School year with a special intergenerational worship service online. Designed specifically with kids and families in mind, we invite you to watch, celebrate, and worship, as we start another school year, remembering that God Goes with Us.
Our Old Testament lesson for the day is the story of Moses and the Israelites crossing the Red Sea. You might want to read the story ahead of time with your family, Exodus 14:19-31. In the story we learn that God went both before and behind the Israelites on their journey out of Egypt, travelling with them and keeping them safe. In these times of strange uncertainty, it is a comforting reminder to hold: God Goes with Us.
In the Exodus story God goes with the people in a pillar of cloud. It may be fun and helpful for children to imagine God going with them to school, in the hallway, in the classroom, on the playground. What creative shape do they imagine God might take in those places?
What can you expect this fall? As we wait and learn how this virus will respond to schools opening, we will continue to offer online options for children and families. As long as the building remains closed, we will offer a mix of intergenerational worship experiences along with some children's messages, designed just for kids, like we did last spring. At this point we anticipate offering intergenerational worship the first Sunday of the month and then offering children's messages on the other Sundays. This pattern may change as we strive to be responsive to needs as they emerge.
Please do not hesitate to reach out and let us know of what is most helpful for you and your family at this time.
Classes are offered September through May during the 10:15 a.m. service for ages preschool through 9th grade. Please plan to have your children join us! It's going to be a great year! You can register your children any Sunday downstairs in the church school area or in the QUEST room.
Family-friendly Events
Check our calendar for family-friendly events, including some of the Explorations offerings. Recent events have included a wildflower walk, a bird walk, decorating Ukrainian Easter eggs, and our annual Blessing of the Animals and Advent wreath-making and crafts.
Camp Marshall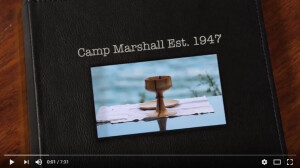 The Episcopal Diocese of Montana owns a beautiful camp on Flathead Lake which offers summer camp opportunities for grade 3 and up, Family Camp, and retreat and rental opportunities. Click the picture at right to watch a video celebrating 70 years of Camp Marshall!
Camp Marshall is located near Polson along the west shore of Flathead Lake. The camp schedule and registration information is available on the Camp Marshall website.