Church School 2021-22: All God's Children
All God's Children: Church School 2021
We'll be exploring what all God's children need: food and water, shelter, clothing, healthy earth, love and kindness.
Please do not hesitate to reach out and let us know of what is most helpful for you and your family at this time.
Church School Changes
We made a plan in the fall for church school focused around COVID safety. We changed things up to fit the current needs. As we have assessed the situation over the recent months we've learned new things and recognized other needs emerging. As a Church School leadership team we've decided to regroup again and adapt. It seems this is a skill that everyone is developing these days.
We have already begun our new approach to children's ministry on Sunday January 23rd. We will continue to ask children to wear a mask (as they are able—some of our smallest parishioners—under 3—have difficulty keeping a mask on). And we will invite them to join us in adult worship. Prior to COVID parents had indicated a desire for children to be more a part of worship, rather than create their own separate worshiping community. And we know children learn faith by emulating adults.
The truth is very few children have worshiped with us on Sunday mornings. As we have worked to understand why we've heard that Sunday mornings just don't work for many families. Some families have clearly stated that COVID was not a factor keeping them from bringing their children to church.
We were pleasantly surprised in November when so many families participated in the Advent Festival and then again in December when many came out to the Christmas Eve service in the courtyard. So based on that feedback and our experience we are planning to pivot, creating a family worship experience that may happen outside (to begin with during COVID) and during a late afternoon time frame. We're thinking about a Saturday or Sunday 4:30 to 5:30. This would not be a children only experience but a family worship experience with music, Bible story, prayers and an activity. Our hope is to try our first family worship some time before spring break and to offer it periodically thereafter as we assess its viability.
On Sundays kids will be with us in the pews or behind the pews or sometimes under the pews. And that requires all of us to be patient and welcoming. Kids will receive hand-outs as they arrive at worship with activities related to the Scripture of the day and coloring pages. We'll spruce up our books and toys in the back and we'll work creatively to integrate kids into roles they can play in worship as the virus allows.
We will continue to offer a Kids Corner in the parish hall and Eryn Robinson will be there to welcome families who need to step out with an especially active little one. We'll keep the TV monitor and audio on in the parish hall so that families can continue to listen to worship while their child is enjoying a larger space to move or putting a puzzle together or playing with a puppet.
Our goal is to be welcoming of all parishioners no matter their age or ability and we hope this new plan extends that welcome and invites families to be with us in ways that feel comfortable and comforting. Please keep Church School and our leadership team (Karen Gartner, Katie Nederhoed, Dorcie Dvarishkis and Gretchen Strohmaier) in your prayers. We are excited about moving forward in a new way to extend children's worship into a family worship experience.
Family-friendly Events
Check our calendar for family-friendly events, including some of the Explorations offerings. Recent events have included a wildflower walk, a bird walk, decorating Ukrainian Easter eggs, and our annual Blessing of the Animals and Advent wreath-making and crafts.
Camp Marshall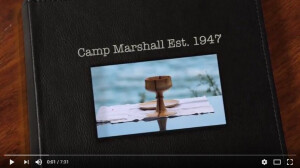 The Episcopal Diocese of Montana owns a beautiful camp on Flathead Lake which offers summer camp opportunities for grade 3 and up, Family Camp, and retreat and rental opportunities. Click the picture at right to watch a video celebrating 70 years of Camp Marshall!
Camp Marshall is located near Polson along the west shore of Flathead Lake. The camp schedule and registration information is available on the Camp Marshall website.