Our theme for 2018-19: God's Hands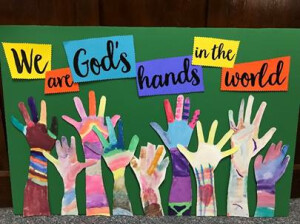 Our theme for this Church School year is God's Hands. We'll be thinking about the safety and security we can find in God. We'll investigate the ways we see God's fingerprints all around us. Psalm 95 reminds us that the caverns of the earth as well as the height of the hills are in God's hands. As we move into the year, we'll explore how Jesus functioned as God's hands on this earth and how we too are called to serve others with our hands as we share God's love with the world. It will be a rich year as we experience the Holy through our God-given sense of touch. Can't wait to explore these concepts with your kids!
Classes are offered for Nursery (ages 0-3), Preschool (ages 3-4), Kindergarten-1st Grade, 2nd Grade-3rd Grade, 4th Grade-5th Grade and the QUEST Class for grades 6-9. Please plan to join us. It's going to be a great year!
Church School Registration Form
You can sign up for Church School any Sunday. Nursery care is always available for our smallest parishioners and children's worship and church school classes are provided for children 3 years old through the 5th grade. QUEST, our class for 6th-9th graders, gathers every Sunday morning to share a game, a time to review the week, and a lesson, before they join the second half of adult worship.
Classes are offered September through May during the 10:15 a.m. service for ages preschool through 9th grade. Please plan to have your children join us! It's going to be a great year! You can register your children any Sunday downstairs in the church school area or in the QUEST room.
Nursery
Children are always welcome in adult worship. There are toy and book baskets at the back of the church. For those who would prefer to use the nursery, it is available for infants and toddlers during the 10:15 a.m. service on Sundays. The nursery is in the Church School area below the parish hall. Ask an usher for directions. Our nursery workers are thoroughly trained and certified in the Safeguarding God's Children program. We invite parents to leave their cell number in the nursery so a nursery worker can contact you via text message, if needed, during a service.
Church School for Preschool - 5th grade
Church school programs are available September-May during the 10:15 a.m. Sunday service for preschool (ages 3-4), and grades K-1, 2-3, 4-5. You can register your children any Sunday downstairs in the church school area.
Family-friendly Events
Check our calendar for family-friendly events, including some of the Explorations offerings. Recent events have included a wildflower walk, a bird walk, decorating Ukrainian Easter eggs, and our annual Blessing of the Animals and Advent wreath-making and crafts.
Summer Vacation Bible School -- Kids Camp
Vacation Bible School, this year called Kids Camp, is offered for a week during the summer, this year at University Congregational Church, 405 University Avenue. Children entering Kindergarten through 5th grade have a blast each day that week from 9 a.m. until noon as they spend time with their Church School friends, explore the Bible, get creative with hands-on art projects, and burn energy with active games.
Camp Marshall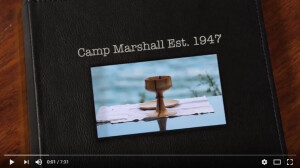 The Episcopal Diocese of Montana owns a beautiful camp on Flathead Lake which offers summer camp opportunities for grade 3 and up, Family Camp, and retreat and rental opportunities. Click the picture at right to watch a video celebrating 70 years of Camp Marshall!
Camp Marshall is located near Polson along the west shore of Flathead Lake. The camp schedule for Summer 2019 and registration information is available on the Camp Marshall website.