Recommendations for Racism Resources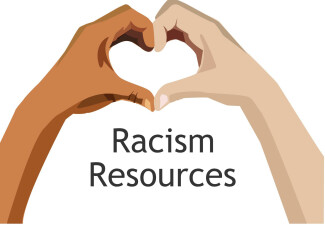 The seventh and final set of parishioner recommendations of resources to help deepen our understanding of institutional racism looks at an Emmy Award-winning television series and two books, one fiction and the second, a lengthy biography.
United Shades of America
Deacon Anita Rognas suggested that I watch a one-hour television program airing Sunday nights on CNN called United Shades of America. I clearly am a late-coming fan to this 4-year-old show, which many parishioners already may be enjoying. Stand-up comic and host W. Kamua Bell engages people from diverse communities in one-on-one conversations about racism, poverty, crime, education, and other important social concerns. The program I watched, about Venezuelans in Florida, was quite eye-opening. While Bell does not hide his political perspective, he is a respectful listener and easy-going conversationalist. Previous episodes can be viewed on HBOMAX. Current episodes appear on CNN on Sunday nights at 8 p.m. Mountain Time. Warning: Watching the program live subjects the viewer to lots of ads, particularly annoying political ads this time of year, so it might be best to record the program to watch later or keep the mute button handy.
And next to the books.
Pachinko, by Min Jin Lee
Sometimes, looking at an issue from a different perspective brings clarity or at least some understanding. Pachinko (2017) is a multi-generational novel about a Korean family in Japan from the 1930s to the 1990s. Their struggles for acceptance and success in the face of deep-rooted bigotry and persistent Japanese stereotypes prove fatal for some and corrosive for others; by the end, no one is left untouched. Themes that weave through our society these days—immigration, racism, sexual inequality, poverty—are all reflected in this intimate, touching and yes, heartbreaking, tale of the day-to-day lives of the family. Their joys and their misery should not be hard to recognize. Pachinko is available locally or online. --Clem Work
Frederick Douglass: Prophet of Freedom
As summer turns to fall, and Adirondack chairs become cozy rockers for reading, I recommend a really long but enlightening read that grimly lays bare the roots of our nation's systemic racism. The book is David W. Blight's 912-page biography Frederick Douglass: Prophet of Freedom, which won the 2019 Pulitzer Prize for History. Blight presents Douglass as a complex and flawed human being, but also a brilliant and tireless orator, activist and advocate for blacks' freedom and equality. It is painful to relive the roots of our racist reality through the searing and still unhealed divisions leading up to the Civil War and the profound failures of Reconstruction. Through it all, Douglass never stopped speaking out for what he believed was necessary and right. This book is fascinating to read (or listen to via Audible) but is not an easy read given the times we are in. It is instrumental, however, to helping us better understand how deep-seated our institutional racism truly is.
Thanks to everyone who contributed to this series of recommendations. I hope that you have found some of the films, videos, websites, articles and books to be as powerful and helpful as I have.
Lucia Solorzano Work
Social Concerns Committee
Recommendations from previous weeks:
Week 6 in our look at resources that enhance our understanding of institutional racism offers a nonfiction book published in 2020 and a website that dismantles the intricate web of racism into threads that interested readers can unravel for as long and far as they wish. First, this review by parishioner Clem Work of Caste: The Origins of our Discontents.
Caste: The Origins of our Discontents
Isabel Wilkerson, author of the acclaimed The Warmth of Other Suns, approaches our racial trauma through the lens of a word Americans will associate more with India—caste as the rigid organizer of social hierarchy, which she believes explains better than "race" the systemic abuse and denigration of people of color in this country by the dominant caste (whites) for the past 400 years. Her argument is convincing at times; confusing at others, but she deserves credit for advancing a different framework as she tries to comprehend the full scope of a system that, whatever you call it, callously confers unwarranted privilege on some and unwarranted punishment on others. The book is available at local booksellers and online.
Dismantling Racism Works
Last month, parishioner Whitney Rimel discovered some very helpful material about White Supremacy Culture in the YWCA newsletter. The source of the material was the website dismantlingracism.org, an attractive, well organized, and incredibly helpful site developed by dRWorks, short for Dismantling Racism Works. From 2005 until May of 2017, dR Works conducted workshops nationwide to help organizations learn about and break down systemic racism. Since the end of its workshops, dRWorks has offered its web-based workbooks for free online to individuals and groups wanting to learn more about the subject. The website is welcoming and easy to navigate, as it deals with much tough material. Topic headings for further exploration range from Assumptions and Racism Defined to How Internalized Racism Operates. There are links to multiple additional resources for those wishing to explore further. Here's the link: dismantlingracism.org
Week 5: This week's parishioner recommendations for helpful resources tackling aspects of institutional racism looks at two very different books. The first, reviewed by parishioner Whitney Rimel, is a memoir from a Salish woman in Montana who recalls the anguish of being adopted and raised by a white couple in Billings and her search to discover her Native heritage. The second book, recommended by parishioner Jim Wiley, is a Pulitzer Prize-winning look at the influences African-American leaders have had on the judicial system over the past 40 years and how that has affected the larger black population. Both books are available locally and through online booksellers. Bitterroot is the August book club selection of Fact and Fiction, which meets virtually on Thursday, August 13, at 7 p.m. Contact to participate.
Bitterroot: A Salish Memoir of Transracial Adoption, by Susan Devan Harness
Montana is home to about 66,000 Native Americans who belong to one or more of the eight tribes in our state. Not only were the tribes robbed of their land, they also face high amounts of poverty and its related health issues, not to mention racism and discrimination. Bitterroot is one Native woman's story of the extra layer of tragedy caused by transracial adoption.
In 1960, white social workers took Susan Devan Harness away from her Salish birth family, based on neglect. (Her mother had substance abuse problems.) A white couple from Billings adopted her when she was just over a year old. Her adoptive parents raised Susan without telling her anything about her Native cultural and family heritage.
Though Susan was raised as white in a white culture no one accepted her as white, though that was the only culture and way of being that she knew. As an adult Susan reconnected with her Salish family. But she could not fit in there either. She didn't know the cultural signifiers. She kept knocking on the door instead of just coming in in the Native way. She unconsciously acted white.
Bitterroot describes the author's struggles to be part of the Native world and to reclaim her heritage. The writing is raw and honest. We don't just learn intellectually about the problems with transracial adoption, we absorb the author's pain, rage, and despair. I found it fascinating and thought provoking. ---Whitney Rimel
Locking Up Our Own: Crime and Punishment in Black America
And what are other parishioners reading? Jim Wiley is reading Locking Up Our Own: Crime and Punishment in Black America, by James Forman, Jr. Forman is a former public defender, an American legal scholar and professor of law at Yale Law School. He is the son of civil rights activist James Forman, Sr., who served as the executive secretary of the Student Nonviolent Coordinating Committee (SNCC) from 1961 to 1966. Locking Up Our Own won the 2018 Pulitzer Prize for General Nonfiction. It examines the role that African-Americans have played in changes to the justice system over the past 40 years, and how injustice to blacks is viewed by other African-Americans. Jim found the book offered "an interesting and different perspective."
Week 4 in our continuing look at parishioner-recommended resources on systemic racism presents an excellent magazine article explaining white privilege plus a graphic novel and parting words from the late Congressman John Lewis.
White Privilege
Helen Matveyeff drew my attention to an article that appeared in 2017 in Yes! magazine. Written by Lori Lakin Hutcherson, founder and editor-in-chief of Good Black News, the title of the article says it all: "My White Friend Asked Me on Facebook to Explain White Privilege. I Decided to Be Honest." Hutcherson provides a highly readable and very relatable article detailing incidents that had happened throughout her life and that of friends, concluding most of the 10 examples with the apt refrain, "if you've never (insert example she has presented)...you have white privilege." The article is short but so succinctly makes the concept of white privilege understandable through events in our everyday lives. You can read it here: https://www.yesmagazine.org/opinion/2017/09/08/my-white-friend-asked-me-on-facebook-to-explain-white-privilege-i-decided-to-be-honest/
March: Book One
We conclude this week's recommendations with two stirring resources from the pen of civil rights leader and Georgia Congressman John Lewis, who died on July 17. Warren and Karen Gartner recommend March: Book One, the first in a series of three graphic novels about the civil rights movement by Rep. Lewis. The graphic novels, say the Gartners, "give a personal view of those events from his first hand experience. A graphic novel may not be a format some people would want to read, but it tells the story in an engaging manner that is accessible and appealing visually. It also may be a way to engage youth in this discussion." Lewis co-wrote the series with Andrew Aydin; it is illustrated and lettered by Nate Powell and can be purchased at various online booksellers, although it was on backorder on several sites. Here is a link to Amazon: https://www.amazon.com/s?k=march+book+one+by+john+lewis&ref=nb_sb_noss_1
John Lewis
As an addendum to this, I was moved and hope you will be also by the following essay that Rep. John Lewis penned shortly before his death. He asked that it be published the day of his funeral.
https://www.nytimes.com/2020/07/30/opinion/john-lewis-civil-rights-america.html
Week 3 in the continuing series of parish-member recommendations of materials to enhance our understanding of systemic racism contains looks at three powerful resources, a book and film and an hour-long video.
Just Mercy, by Bryan Stevenson
A recommendation on the book and film Just Mercy comes from Clem Work:
Bryan Stevenson's ground-breaking book and the 2019 film of the same name are illuminating examinations of the persistent bigotry that pervades death penalty cases, particularly in the South, even today. The book, published in 2014, delves into the causes and corrosive effects of capital murder cases with Black defendants, where justice is rarely served. As a young, Harvard-trained, defense lawyer in Alabama, Stevenson battled racist attitudes among police, prosecutors and judges, malicious prosecution, made-up evidence, all-white juries, harsh penal systems and a well-oiled death machine. He didn't win every case, but enough to create some lasting changes and save innocent lives in the process. The film, on Amazon Prime, focuses on one particularly noteworthy case, but if you want more meat on your bones, read the 318-page book and admire the inspiring story of a Black man who rose from poverty to accomplish enormous good in our criminal justice system. His Equal Justice Institute also built the National Memorial for Peace and Justice, otherwise known as the Lynching Museum, in Montgomery.
Race, Trauma, and the Doctrime of Discovery: Mark Charles
A recommendation comes from The Ven. Dorcie Dvarishkis who watched this 2016 video at the recent July session of the Montana School for Deacons. Mark Charles, a Native American activist, author, and public speaker, discusses Race, Trauma, and the Doctrine of Discovery. Deacon school attendees and various members of the Social Concerns Committee found Charles' talk to be insightful, engaging, unsettling, thought-and action-provoking, and long overdue. This illuminating talk can be viewed here: https://drive.google.com/file/d/1G-dUyz50GH7xD7D6WI4RGoCGTq7doEFh/view?usp=sharing
Week 2: Two recommendations from Lucia Solorzano Work:
The Holy Post: Phil Vischer
The first suggestion comes from a friend who does not attend church and is hardly a conservative Christian. She recommended I share an 18-minute video by conservative Christian Phil Vischer of VeggieTales fame. I was startled and a bit nervous but intrigued. The video is a rapid-fire "worst hits" presentation of federal and state policies that have created and perpetuated systemic racism in our country. Vischer narrates with the aid of simple graphics that aptly make the case that we did not get where we are in this country without a lot of help from government policies. It draws on solid resources such as The New Jim Crow, which we read in a parish book group. This installment of The Holy Post, as Vischer's videos are called, is a bit simplistic but not religious and I think gives a brisk but thoughtful overview. You can access it at: https://youtu.be/AGUwcs9qJXY
The Hate U Give, by Angie Thomas
My second recommendation is the 2017 young adult novel The Hate U Give by Angie Thomas. It has been a couple years since I listened to the audiobook but I vividly recall its powerful portrayal of Starr Carter, a teenage black girl who is the passenger in a car pulled over by a white police officer. Carter lives in a poor, predominantly black neighborhood but attends an elite predominantly white high school. She narrates the novel which explores her awakening to issues of racism, social injustice, and the Black Lives Matter movement. Don't be put off by the "young adult" label. This is a terrific, award-winning book for all ages! Learn more here.
Week 1: Our first two recommendations were from The Reverend Gretchen Strohmaier and Whitney Rimel:
The Seattle Times Project: Under Our Skin
I found this series of short video clips helpful in understanding how we talk about race. It tackles terms like: institutional racism, microaggression, colorblindness, white fragility. It is insightful to hear a variety of people from all kinds of backgrounds describe how they understand these terms and topics. It broadened my perspective and the short clips make it easy to access. Follow this link https://projects.seattletimes.com/2016/under-our-skin/#institutional_racism
- Reverend Gretchen
James Baldwin! William F. Buckley!
These two men were among the important thinkers of their time. Baldwin was a noted writer, living in self-imposed exile in France. He had written "The Fire Next Time" only two years earlier. Buckley was a conservative commentator. He was a product of Yale University and had written "God and Man at Yale." They were both witty, erudite, silver-tongued and quick on their feet. In 1965 Cambridge University invited them to debate the proposition that "The American Dream is at the expense of the American Negro." Fortunately for us, we can now watch the debate on YouTube. We can hear Baldwin's impassioned defense of the proposition. Sadly his talk is as relevant today as it was 55 years ago. After Baldwin spoke, the overcapacity audience gave him a standing ovation— something that had never before happened at the Cambridge Union. Then Buckley spoke, to a mostly quiet and occasionally booing crowd. He had a hard time, despite his speaking ability.
The debate entranced me. In listening one sees how, in many ways, little has changed since 1965. I knew Baldwin's writing but had never suspected he could deliver such a stirring speech. Buckley did his best with a losing proposition, bringing his oratorical skills to the table.
If you have access to YouTube check it out. The link is https://www.youtube.com/watch?v=5Tek9h3a5wQ It takes about an hour. It will be well worth your time.
- Whitney Rimel