Camp Marshall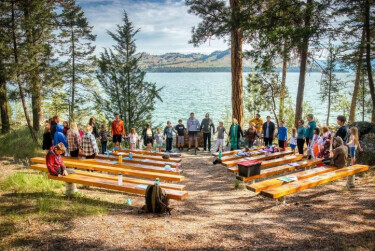 Camp Marshall offers youth programs, family programs, and adult retreats and conferences. This summer Camp Marshall will celebrate its 76th year!
Camp Marshall is the Episcopal Church Camp located on beautiful Flathead Lake. Do you have a child or grandchild who might be interested in attending one of the camping sessions at Camp Marshall this summer? Information about all of the camping sessions, including Family Camp, is available on the Camp Marshall website here. Scholarship help is available for camp.
Youth Camps for 2023
Grace Camp, June 25 - 30, 2023, for students entering grades 3-8 who have one or more parents who are currently incarcerated. This camp is paid for by financial gifts from congregations, individuals, and organizations. Learn more, register, or support Grace Camp
Junior Middler Camp, July 9 - 14, 2023, for students entering grades 3-8. Learn more and register for junior middler camp
Senior High Camp, July 23 - 28, 2023, for students entering grades 9-12. Learn more and register for Senior High Camp
Family Camp Sessions - registration will be open soon. Learn more here
Family Camp One, July 2 - 7, 2023
Family Camp Two, July 16 - 21, 2023
Celebrate Camp Marshall, more information coming soon
Families of all configurations are invited to come for a day, or two, or a week. Activities include: archery, fishing, outings to Wild Horse Island, ropes course challenges, daily worship, arts & crafts, delicious meals, and plenty of time on the lake. Family camp offers a true experience to rest (no cooking or cleaning, programs for children are ready, supervision is provided), relax, enjoy, play with your family, and replenish your Spirit in the beauty of creation.
Pricing is based on the number of days you spend at camp. It always includes meals, snacks and programs. This year three-tier pricing is in place. You will have options to pay the full price of camp or pay with the support of subsidies. Select what works for your family.
Adult Retreats & Conferences Learn more
Ultreya, March 24 - 26, 2023
Cabin Fever Women's Quilting, April 13 - 16, 2023
Clergy Conference, April 18 - 20, 2023
Creation Care Contemplative Retreat, May 19 - 21, 2023

About Camp Marshall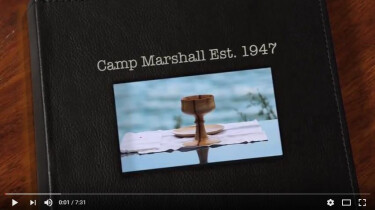 The Episcopal Diocese of Montana owns a beautiful camp on Flathead Lake which offers summer camp opportunities for grade 3 and up, Family Camp, and retreat and rental opportunities. Camp Marshall is located near Polson along the west shore of Flathead Lake. Click the picture at right to watch a video celebrating 70 years of Camp Marshall!
Our Faith Life Zoom-cast –
We interviewed people around the Diocese about how Covid-19 has been affecting their faith lives, and what that means for the future.

Watch the Faith Life Zoom-cast
Keep an eye on the camp's web page.