Camp Marshall's online camping experience
Camp Marshall's online summer program is now open. We have something in place for our families and something for campers grades 3 - 12 in place. Our Online Christian Formation Team has been hard at work getting things up and in place online. The program is an extended season beginning on June 21 and ending on July 24.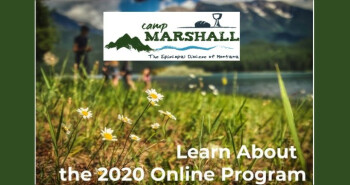 This summer we will be offering a number of "online" programs for our camper families. Look for:
Keynote speakers - Every Sunday evening (one of our speakers is our Presiding Bishop Michael Curry)

Chapel Monday through Friday

Online Youth Group Meetings (two a week for each age group)

Online Campfire and Talent Show

Special events - more information will be coming soon.

Family video challenges
Students can sign up any time. Click here for more information and to register!
Update from Camp Marshall's Online Summer:
To access all parts of the program is very easy. We have built our program to run primarily from the homepage of the camp's webpage. When you log into campmarshallmontana.org, you will see navigation buttons that will keep you up to date with all we are doing.
Registration is quick and easy. You can help us right now by registering for camp. We welcome any size donation to help us offset some of our costs and hope to increase enrollments as our summer rolls along.
Navigation of Daily Program
The two tabs that are especially important are "Camper Calendars" and "Blog Space". These two tabs will keep you up to date with all of our day to day activities that are run from the camp.
Camper Calendars shows events that are "community" based or open to all ages with three additional calendars – that show when we have online youth groups and the times they are meeting. The first time you use that link you will be asked to log in (you can use your personal login for Facebook and or Google or make your own username and password). This "extra" step is intended to create a little more security around this part of the website since it contains live links to all of our zoom meetings. While you can access this area prior to registering, it is our hope that you register first. That will make it easier for us to help you if there are any questions.
Blog Space has a list of what is most current with the program. (An example is our recent conversation with our Presiding Bishop). Sometimes you will see live events, camper challenges, group meeting announcements etc. Our staff uses this part of the website to share links to our YouTube Premiere events that we can only share the day it is happening.
Camper Challenges: Explore this area to look for something you would like to do from home. We need "fun" and "serious" submissions. Some of what we are asking for includes scripture readings while others are on the lighter side. This can be a lot of fun, and we encourage families/students to submit their work to the camp where we can put it online in our Media tab.
The Media Tab: Here you can find playlists of camper videos and projects we have developed over the years right along with camper submissions made to us this year. This is all part of the fun, so be sure to spend some time exploring this part of the webpage.
If you have not already, we hope to have you register soon. We have something for everyone. If for any reason you have any questions or would like to connect with the camp please call (903) 271-7069 to reach Executive Director David Campbell.
Hope to see you soon in one of our program areas.
Dave Campbell
Executive Director
Camp Marshall
Keep an eye on the camp's web page.