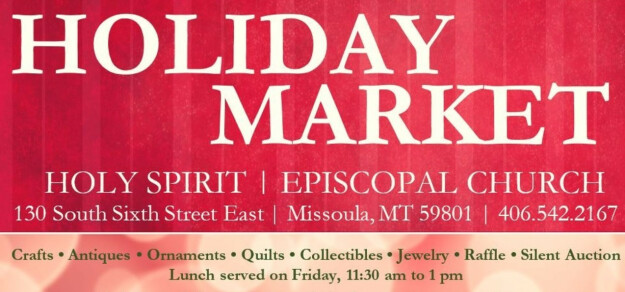 Holiday Market 2022
THANK YOU FOR A WONDERFUL HOLIDAY MARKET!
The numbers are in! Seven days plus of Holiday Market preparations, sales, raffle, and auction brought in $10,752.71. Hundreds of customers perused thousands of items. 1,355 raffle tickets were purchased. Scores of volunteers spent days arranging, pricing, greeting, selling, providing meals and treats, and tidying up. And, months of memories lie ahead. Thank you, Diane Rasmuson, for the uncountable hours you put forth as chairperson for this year's market. Thank you, committee members and everyone who helped in every possible way. Even though the market was "simplified" this year – the Art Gallery, the Donut and Coffee Bar, Dalton's piano music, the new floor layout, and the tables of donations made for an incredible event.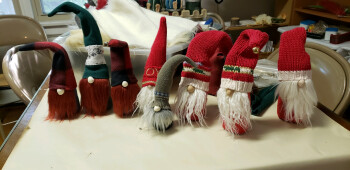 Our week of cold, snowy weather did not deter the many, many joyous, loyal, and generous volunteers, donors, parishioners, and visitors who made their way to Holy Spirit this past week. Each ONE of you made a wonderful difference. Thank you. Thank you.
The Holiday Market Committee thanks all of you who helped made this year's Holiday Market a reality. From your generous donations of items, talents, meals, muscles, and hours spent volunteering, we once again realized how blessed our church family is. We wish all of you could have seen the excited faces of the hundreds of people who came to shop on Friday and Saturday and heard their thank-yous for Holy Spirit once again providing Missoula with this splendid event.
Special thanks to the Holiday Market Co-Chairs, Diane Rasmuson and Sue Lowery and to all the hardworking folks on the Holiday Market Committee. They did a fabulous job organizing everything and everyone! Thank you one and all.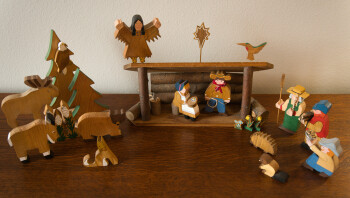 Next Year's Holiday Market is just around the corner! Can you help?
What to donate: We need your antiques, vintage goodies, framed fine art, Christmas décor, crafts and handmade items of ALL types, Griz items, jewelry, and re-giftable goodies for the Gift Shop. Please be sure all donations are in excellent or original condition. Questions? Contact Diane Rasmuson at 406-493-6192 or Sue Lowery at 406-546-8401.