Check out the Holiday Market
online auction page
Holiday Market elves are busy readying the online sale Website with incredible items for you to view and beginning Friday, November 27, to purchase. From aprons to afghans. From quilts to curios. From wooden toys to hand loomed rugs, we're doing our best to make it easy and safe for you to shop as the holidays approach. How about a blind date? We've even got you covered there. Take your blind date to an Oregon condo? It could happen! Get ready to join in the joy of this year's market.
Item photographs and descriptions will be posted online beginning Friday, November 27, and will remain online until sold or until the market closes on Thursday, December 3, at 5:00 p.m. The online auction will also end at that same time.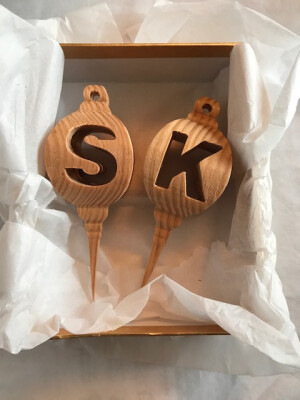 Item pick up will be Saturday, December 5 at Holy Spirit. Details to be announced.
Want to shop early?
Need a goodie before December 5? As a special, pre-sale Holiday Market item, you can order these personalized, hand-crafted, white pine and fir Christmas ornaments NOW from Bob Wattenberg. $5.00 per initial. Contact Bob at . Order early for those special folks on your list!
Bob is also willing to build a name train, if you give him some notice.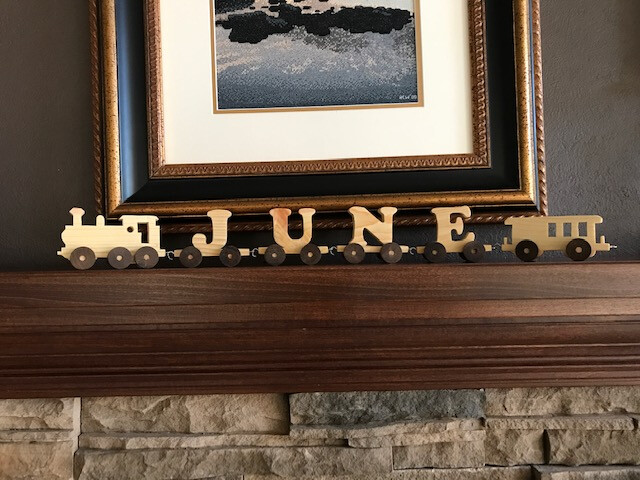 Check out the wonderful video James Gartner made of last year's Holiday Market! Click the photo below.