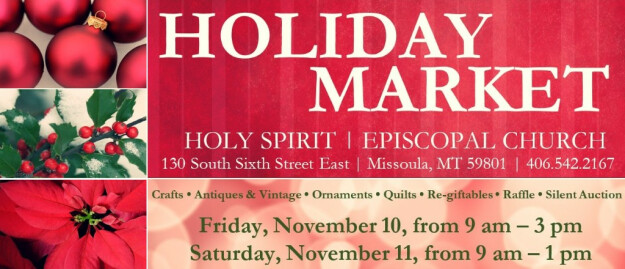 Holiday Market 2023
Our Holiday Market is Just Around the Corner
Please start planning your participation in this year's Holiday Market. Donations will be accepted on Sunday, Monday and Tuesday, November 5, 6, & 7. The Market itself will be Friday and Saturday, November 10 and 11. We need your antiques, vintage goodies, Christmas décor, crafts and handmade items of ALL types, Griz items, jewelry, and re-giftables (hopefully in their original boxes.) Volunteer sign-up sheets will be available on Sunday, October 29 and Sunday, November 5. Questions? Please email Sue Lowery at
CALL OUT FOR RAFFLE & SILENT AUCTION ITEMS FOR THE HOLIDAY MARKET
By Sunday, October 15, items for the Sunday, November 12 Raffle and Silent Auction need to be established. What could you contribute to a Wine Basket? A Death by Chocolate Basket? A Gourmet Goodie Basket? A Children's Basket? A Pet Basket? How about a Gift Certificate to a Missoula area business or event? A special craft or jewelry item? Your talented time teaching others something you do especially well? An item we've never even considered? Please contact Diane Rasmuson at 406-493-6192 OR Sarah Towle at 406-370-8905 with the item(s) you wish to donate or any questions.
HOLIDAY MARKET CRAFT GROUP
Calling all Crafty People! If you like to make simple handcrafted items, please join us for the Holy Spirit Craft Group on Tuesdays at 10:00 am in the church office (upstairs). Minimal skill needed, all supplies provided. We will be making ornaments and Christmas décor to sell at the Holiday Market in November. For more information, contact Sue Lowery at (406) 546-8401 or .