Holiday Market
Check out the wonderful video James Gartner made of last year's Holiday Market! Click the photo below.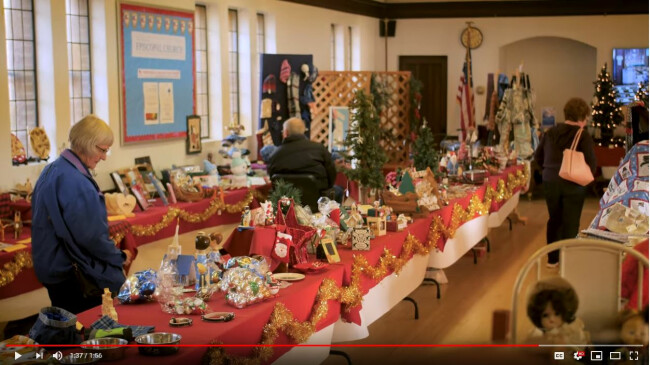 Thank you, Holy Spirit!
The Holiday Market Committee thanks all of you who helped make this year's successful sale a reality. From your generous donations of items, talents, meals, muscles, and hours spent volunteering, we once again realized how blessed our church family is. We wish all of you could have seen the excited faces of the hundreds of people who came to shop on Friday and Saturday and heard their thank yous for Holy Spirit once again providing Missoula with this splendid event. Auction and raffle activities, too, added to the joy of this week. Let's now carry over that energy and spirit into the upcoming Bake Sale -- the final chapter in this year's Holiday Market events.
And thanks to our great group of volunteers!
A sale this successful couldn't happen without lots of volunteers and help. Thank you to all who helped with the Conga Line, arranging the tables, making lunches for the volunteers, helping with raffle ticket sales, donating raffle and silent auction staff. Special thanks to the office staff, especially Judy Parock who was always there to help with last minute printing requests and countless other tasks, including photographs for the church Facebook page tohelp market the Market. Thank you to those who provided music in the church on Friday during our open house, hosted by Bill Earhart. The number of volunteers for this event was amazing! We are so grateful and feel so blessed that we worship with such dedicated people. We had well over 40 volunteers, most of them working several days and/or shifts. This year the Market was run by committee. Thank you to all of our Holiday Market Coordinators for a job well done!