Parenting Place Community Ministry
Thank you for your interest in exploring service and learning opportunities with our neighbors at Hellgate High School and Parenting Place! Click here to learn more about our Hellgate High School Community Ministry.
We ask that all our Community Ministry volunteers complete the Safeguarding God's Children online education and a background check with the Diocese. Please contact Jill Sallin at to ready yourself to serve.
Parenting Place Ministry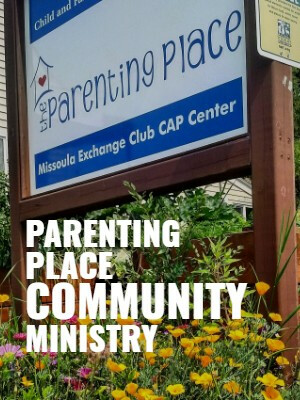 Join in April's opportunities for strengthening families with the Parenting Place
In April, the blue pinwheels for prevention will again be spinning. They catch the winds of support that The Parenting Place (PP) has been stirring in western Montana since 1981. They are here to remind us that our childhood experiences shape us for a lifetime. Building knowledge, relationships, and a sense of community with families is key, and you can join with PP to be an amazing engine for this important and lasting work:
Virtually attend PP's programs for the Exchange Club every Thursday in April, noon to 1 pm. Contact me at 406-239-7655 for program topics and Zoom links.
Register for an Adverse Childhood Experiences (ACEs) training class.
Donate less-needed furniture and large appliances to Donation Warehouse (donationwarehouse.net, 406-240-4042), a PP business partner whose resales generate more than $10,000 every month for PP programs.
Purchase a batch of pinwheels and "plant" a pinwheel garden in April to spark neighborhood conversations about PP programs and impact.
Make a gift to PP during Missoula Gives May 6-7, where all gifts are welcome, and gifts from new donors help us to meet a special $10,000 Muralt challenge.
Connect with PP and Donation Warehouse's Facebook / Instagram pages for learning and support opportunities.
As a program participant and your Holy Spirit PP Community Ministry coordinator, I have witnessed firsthand the value of PP's work. To be a part of these winds of support for our families and children, contact me, and we will help you to move with us!
At Parenting Place, kids and families are strengthened through parenting classes and 1:1 parent support.
Opportunities to be involved with Parenting Place, 1644 S 8th St W:
Sign up to volunteer for our next on-site work party by contacting me through email or the church office phone (see below)
Sign up for a Parenting Class - email Ivy Anderson at

for a schedule of the classes offered
Donate to and shop at Donation Warehouse, where a portion of every sale benefits PP programs
Volunteer for the April Awareness team to help promote strong families and healthy childhoods
Contact me with your questions and ideas by email or through the church office.
Thank you for joining in such tangible ways to love our neighbors!
The Venerable Dorcie Dvarishkis

Church office phone: 406-542-2167