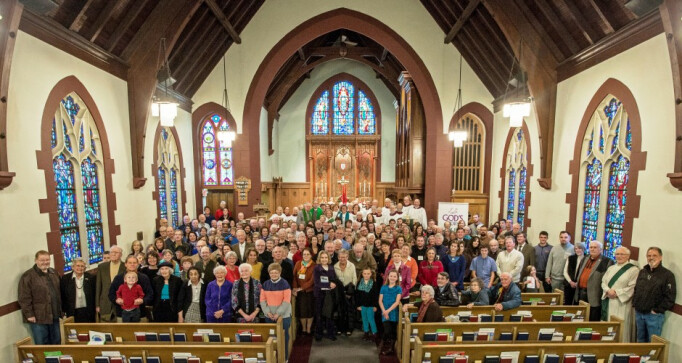 Welcome!
Holy Spirit Episcopal Church welcomes all who come to celebrate and worship God.
Welcome to Holy Spirit Episcopal Church! We invite you to explore our website, learn more about us, and come and experience Holy Spirit. We look forward to meeting you!
The photo above was taken at our celebration of 100 years of ministry at 6th and Gerald. To view it larger, click here and then click the diagonal arrow at the top right of the photo.
Holy Spirit Episcopal Church, founded in 1870, is an energetic parish dedicated to strengthening our parishioners' well-being and spiritual growth while serving our community and the greater world.
The church, a gracious 1915 brick structure, boasts windows by renowned glass artist Charles Connick and a beautifully crafted Bond organ.
The church has two full-time and eight part-time staff and a membership nearing 800. Its robust children's program, talented choir, and long-standing outreach programs foster a healthy parish life.
Explore our Vision and Mission.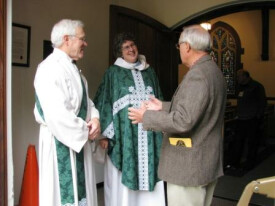 Learn more about our worship services.
Read more about baptism, confirmation, weddings, blessing of a lifelong covenant (including same sex blessings), funerals or memorial services, and our columbarium.
Find out more about music at Holy Spirit.
Read about children's programs at Holy Spirit.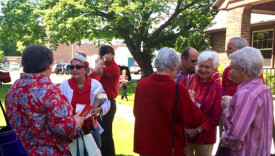 See what adult programs we offer.
Read about our parish life activities.
Find out about the outreach programs we support.
Learn about ways you can serve at Holy Spirit.
Find out more about our staff.
Our Spiritual Home
We offer a church home that combines comfort and challenge, inspires heart and intellect, and nurtures individual growth through a corporate faith. We seek to be a place where dialogue and diversity are welcome and essential to our support of one another.
Our rich liturgy, outstanding choir, and thoughtful teaching shape our broad church worship. We offer two Sunday services September-May and one Sunday service June-August, including both Rites I and II. Each month, church school children join worship for a family service. A liturgical music intern and periodic guest musicians from the University of Montana enrich our worship.
Visit our Vision and Mission page.
Our Vision:
We cultivate, challenge and live our faith in Christ through commitment to each other and the world.
Our Mission:
We follow the example of Jesus as we serve those in need.
We work to nurture a welcoming, loving community that recognizes and values all of God's people.
We embrace scripture, reason, tradition and experience to interpret and grow in our faith.
We celebrate our faith through the beauty and mystery of our liturgy, music and the created world.