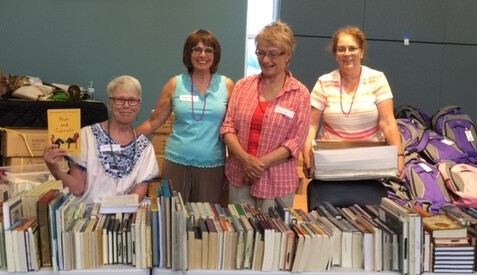 Brighten a child's life with a book!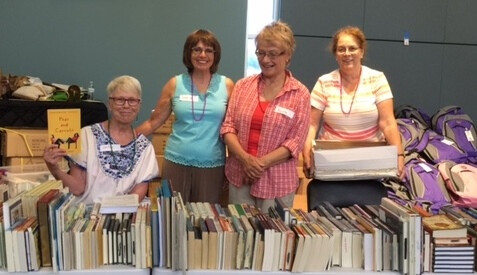 Could you brighten a child's life and give him or her a stronger start to the new school year by donating a new or gently used book? Holy Spirit Parish will once again be coordinating the book drive portion of the annual Back-to-School Bash which is held in late August. The Bash, which has been coordinated by the Salvation Army, the United Way, and the Missoula Interfaith Collaborative, provides Missoula's neediest families with backpacks stuffed with school supplies. And thanks to Missoula's faith communities and generous local authors and booksellers, all children receive free books that they get to select themselves! It is deeply moving to watch children and adults thoughtfully peruse stacks of books to find those special ones that appeal to them; just ask any of the Holy Spirit volunteers who helped at last year's event.
We have begun collecting new and gently used books for children and young adults up to age 18. Please no Bibles or religious books since this is an event aimed at students who attend Missoula County Public Schools. Thank you! Please look for a plastic bin in the entryway ready to collect your donations. We will be collecting books throughout the summer.
Another way to give: Donate your Book Exchange credit!
Do you have lots of wonderful credit at the Book Exchange which you will never use in one life time? Would you like to take part in the Back to School Bash book drive but have already donated all the excess books around your house?
In response to a couple requests from parishioners, there is an account at the Book Exchange into which you can transfer some of your store credit or donate cash. (Call the office or email us at for details.) This enables our book drive team to shop at the Book Exchange to purchase books on popular subject matter or for high school aged students, who often receive fewer donations from participating faith communities.
No amount is too small!
Can you help on August 16?
Prior to that day, all books will have been collected, sorted and boxed, ready to pick up. Starting the morning of August 16, the coordinator's duties will include:
Overseeing pickup and delivery of the books from Lucia's house to the Salvation Army
Setting up books on shelving, tables and bins so they are ready when the event starts at 3 pm
Overseeing volunteers to assist Bash participants in looking for and finding suitable books to bring home
Helping to take down the display and see that the leftover books are picked up by the person who will receive the remaining books
The responsibilities can be divided among two or three people if no single person can commit to the full day. Please contact Lucia if you are interested, or contact the church office at or 542-2167.