A Festival Service of Nine Lessons and Carols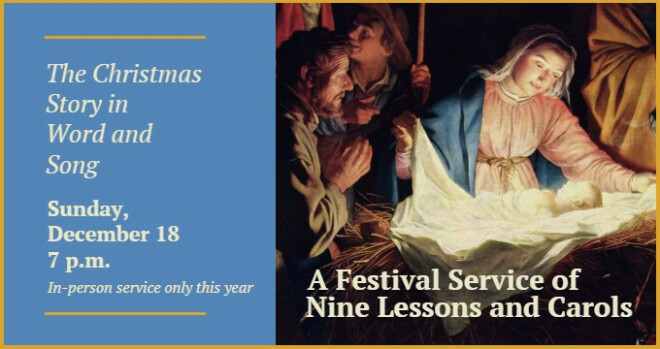 Sunday, December 18, 2022, 7:00 PM - 8:30 PM
Join us in person for Lessons and Carols on December 18
The Festival Service of Nine Lessons and Carols will take place on Sunday evening, December 18, at 7 p.m. in the church. The choir and organ will be in splendid voice, and the beautiful carols and anthems will be the perfect introduction to the last days before Christmas. The Festival Service of Nine Lessons and Carols, which began in England in the early 1900s, is now a part of Anglican and Episcopal worship throughout the world. The service is made up of lessons alternating with the singing of congregational and choral music. Beginning with the story of Adam and Eve, the lessons trace the prophecies of the Nativity and end with the beautiful passage from John: "In the Beginning was the Word…."
I invite all of you to join the choir on the 18th, and in the words of the beautiful opening prayer,
to hear again the message of the
angels, and in heart and mind to
go even unto Bethlehem and see
this thing which is come to pass…
A reception will follow in the parish hall. This service will not be live-streamed or recorded but is in-person only. We hope to see you there!
̶ Dr. Nancy Cooper
Organist and Choir Director
Read the Lessons and Carols service leaflet