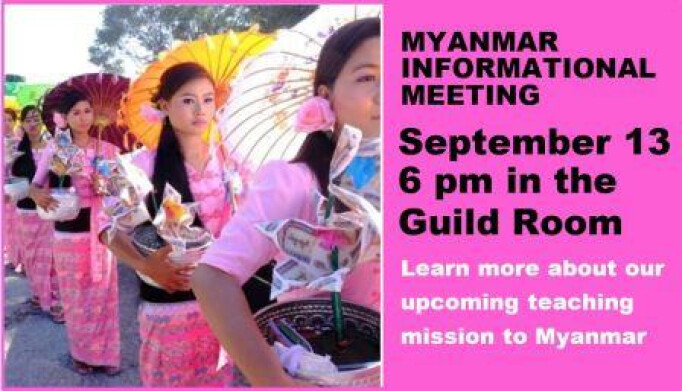 6 pm Myanmar Informational Meeting
Wednesday, September 13, 2017, 6:00 PM - 7:30 PM
Holy Spirit's second Myanmar Teaching Mission is coming together! So far, five volunteers, veterans of the first teaching mission in 2015, have signed on for the three-week trip next January. "I'm returning to Myanmar because on my last visit the sweetness of the Burmese people touched my heart," says Nancy McCulloch." I hope to assist them in learning English so that they can more fully connect with the world beyond Myanmar." For Kathy Swannack, it's also about the people, adding a dimension that ordinary travel can't match. "My experience there was fulfilling and moving but the people were the icing on the cake! I can't wait to be among them again," she says.
As they did before, volunteers will stay in rural monastic schools in the Mandalay region, coaching teachers and mentoring them as they teach their pupils English. The emphasis is on English conversation and on interactive techniques in the classroom to improve learning and retention of spoken English. After two full weeks of teaching, volunteers will embark on a short sightseeing trip to Kayah State and Inle Lake before returning home.
Volunteers pay their own expenses, except for room and board at the schools, which will be provided at no cost by Studer Trust. The non-profit agency builds schools and trains teachers in Myanmar. The total cost for each participant, including airfare, should be in the range of $3,000 - $3,500.
There is still room for up to three more volunteers. If you are at all interested or intrigued by the possibility, or know someone who may be, please contact Clem Work at 728-2760 or at . The next meeting will be Wednesday, Sept. 13 at 6 p.m. in the Parish Hall.