6:30 pm Book Study: Evicted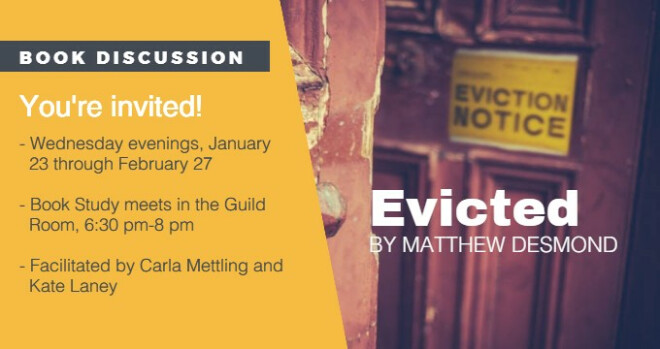 Every Wednesday, from 01/23/2019 to 02/27/2019, 6:30 PM - 8:00 PM
A new book study begins in January -- Evicted: Poverty and Profit in the American City by Matthew Desmond.
Join facilitators Carla Mettling and Kate Laney for this 6-week book study starting on Wednesday January 23rd from 6:30 to 8:00 p.m. in the Guild Room.
We are often told to care for the poor, but who and where are they and why are they poor? Our culture tells us they are the lazy ones or the addicts or mentally ill. But the truth is that our system of laws, particularly those connected with housing, make people poor and keep them that way, ruining families and individuals along the way.
Following our parish's chosen ministry to children and families at risk, the Social Concerns Committee invites interested parishioners to read together Evicted by Matthew Desmond, winner of the 2017 Pulitzer Prize in General Nonfiction. The book provides a ground-level view of some of the most urgent issues facing America today: poverty in American city life due to housing insecurity, economic exploitation, public policy, and racial inequality.
In Evicted, Princeton sociologist Desmond follows eight families in the poorest areas of Milwaukee as they struggle to keep a roof over their heads. Even in the most desolate areas of American cities, evictions used to be rare. But today, most poor renting families are spending more than half their income on housing, and eviction has become ordinary, especially for single mothers. As we see families forced into shelters, squalid apartments, or more dangerous neighborhoods, we bear witness to the human cost of unjust laws and policies, and to people's determination and intelligence in the face of hardship. Its unforgettable scenes of hope and loss remind us of the centrality of home, without which everything else falls apart.
The group, meeting on Wednesday evenings through February 27th, will meet in the Guild Room. Copies of the book will be available for purchase in the church office and in the parish hall for $13.