7 pm Lenten Program CANCELED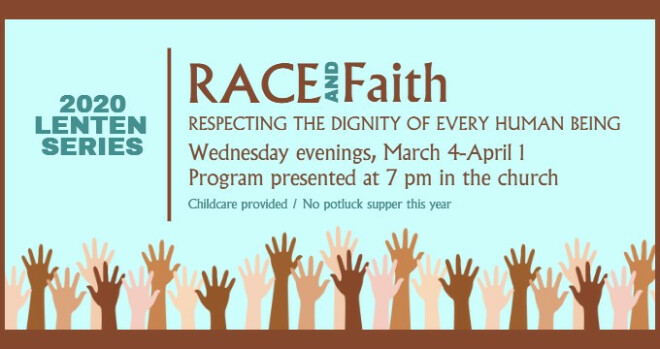 Wednesday, April 01, 2020, 7:00 PM - 8:15 PM
Beginning on Wednesday, March 4, join us on the five Wednesday evenings of Lent to hear speakers share their thoughts on topics such as the history of racism, privilege, and reparations.
This year we encourage you to eat at home and then join us for the evening educational presentation at 7 p.m. in the church. The program will run until 8:15 p.m., and we'll close with a brief Compline service. Childcare will be available. Please plan to join us!
Wednesday March 4th U of M Professor Tobin Miller Shearer will present, Racism and the Church: A (Very) Short History. This session will explore the history of Christianity's connection to, participation in, and resistance against racism in the United States.
Wednesday March 11th U of M Professor Tobin Miller Shearer will present, Privilege and Spiritual Formation. In this session, we will explore the connections between the privileging forces of racism and spiritual formation in the Christian tradition.
Wednesday March 18th (Canceled) Judith Heilman, Executive Director of The Montana Racial Equity Project, will present, The Black (Non)Accrual of Wealth and Reparations. This session will study the history and causes of Black-white racial wealth inequality and the call for reparations. The Wednesday, March 18 meeting has been canceled.
Wednesday March 25th U of M Professor David Beck of the Native American Studies program will present, Tribal Sovereignty and American Indian Religious Freedom. American Indian tribes have a unique political relationship with the United States due to their status as nations within a nation. Yet they continue to struggle to exert the "tribal sovereignty" that is theirs under law. At the same time, the United States claims to be a nation founded on the idea of religious liberty. Yet the first Americans have historically been denied the right to practice their religions, and this is also something with which they still struggle. This talk will look at the intertwining of tribal sovereignty and American Indian religious freedom.
Wednesday April 1st Professor Tobin Miller Shearer will present, Formation: Anti-Racist Practice as Spiritual Discipline. In this interactive session, we will work with a series of case studies to learn best practices for interrupting racism when we encounter it in our daily lives and interactions. The wisdom of the spiritual disciplines will guide our discussion.