Holiday Bake Sale follows both services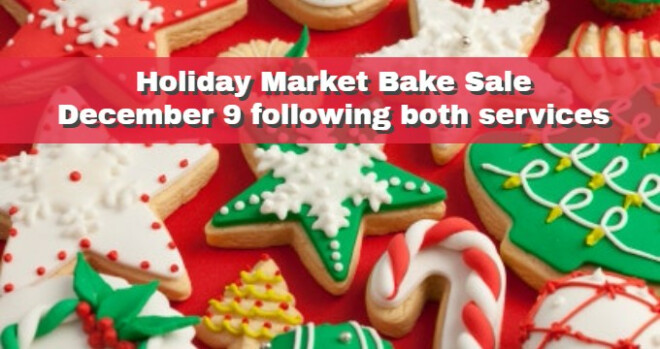 Sunday, December 09, 2018
Join us in the parish hall to purchase wonderful treats for the holidays, following both services this Sunday!
Parishioners at Holy Spirit are not only known for their baking expertise, they're also pretty good at enjoying the fruits of that baking! December 9th is the day for this year's Holiday Bake Sale, and as usual it will be held after both the 8 a.m. and 10:15 a.m. services. It's a good time to do some of your Christmas baking, putting a couple of plates aside for the Sale, as well as buying a variety to add to your inventory!
If you have a specialty, we hope that you will contribute it to the sale. Some annual favorites are mini-pies, cakes, rolls, whole pies, muffins, jams or jellies. There is a rumor that rich fruitcakes may be offered, as well as tart lemon curd. The famous cookie table is always a mouth-watering sight to behold – irresistible! This enables you to make up your own assortments.
Your donations for the Sale may be made in the church kitchen:
Friday, December 7, before 4:30 p.m.
Saturday, December 8, between 10 a.m. and 12 noon
Sunday, December 9, before either service