MAC Day at the Legislature - Sign up by Jan. 11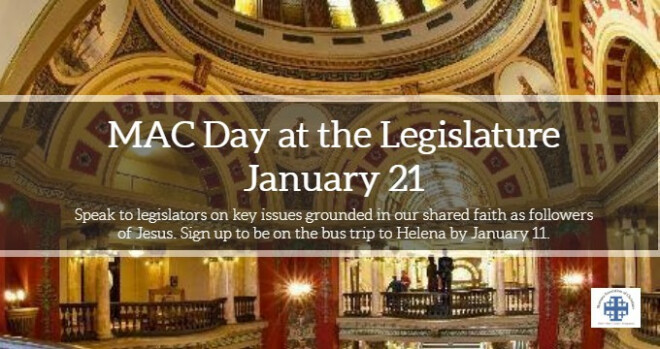 Monday, January 21, 2019
Montana Association of Christians (MAC) is organizing buses from around the state for Mon. Jan 21, to speak directly to our legislators on key issues grounded in our shared faith as followers of Jesus:
death penalty abolition
humane immigration & refugee legislation
children's mental health & suicide prevention
prison reentry policies
The cost for a seat on the Beachliner is $25. Bring your own beverage, and breakfast treats will be provided. Signups and payment are needed by Jan. 11 to confirm the bus and reserve your seat. Since this is Martin Luther King Jr. Day, there will be no school. Consider bringing your child or grandchild.
Please arrive by 7:15 am. Bus will depart at 7:30 am from the Holy Spirit Episcopal Church parking lot, 130 S 6th St E (adjacent to Hellgate HS), and return by 5:00 pm.
For more information and background on MAC's key issues, click here.
To sign up, send your name, email, phone number and organization/faith affiliation to by January 11th. Checks should be written to: Rev. Dorcie Dvarishkis and mailed to: Attention Dorcie, HSP, 130 S 6th St E, Missoula, MT 59801. Please put MAC Bus in the subject line. If you can't attend, please consider sponsoring a seat for someone else.