6:30 - 8:30 pm Book Cafe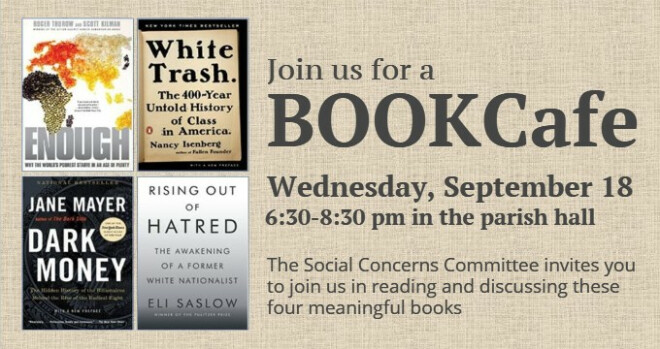 Wednesday, September 18, 2019, 6:30 PM - 8:30 PM
Holy Spirit Episcopal Church's Social Concerns Committee invites you to join us in reading and discussing meaningful books. Choose one or more of the books to read and then join us on September 18 from 6:30 to 8:30 pm in the parish hall for a Book Cafe.
How does a Book Cafe work? Start with light refreshments and time to socialize, then choose a table where a facilitator will lead a discussion of one of the books. We will discuss what the book is about, why it is an important issue, and how we at Holy Spirit, as Christians, can respond to the issue. After a break, you can resume discussing the same book or jump to another table to discuss another of the books. At the end of the evening there will be an optional book exchange where you can trade your book for one of the others.
Questions? Contact Warren Gartner of the Social Concerns Committee, through the church office at 406-542-2167.