8 pm Compline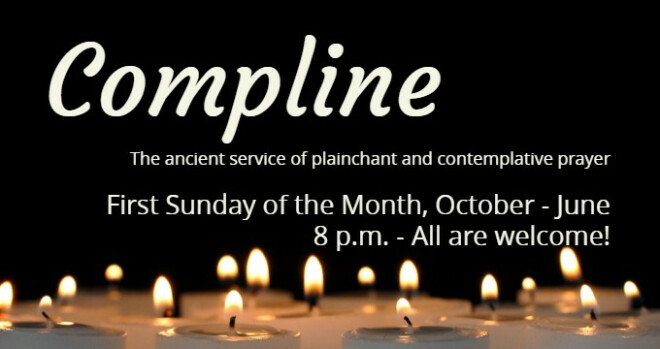 First Sunday, from 10/06/2019 to 06/07/2020, 8:00 PM - 8:30 PM
Compline, the ancient service of plainchant and contemplative prayer, will be offered at Holy Spirit on the first Sunday of each month, October through June. This contemplative service is conducted in candlelight and led by a reader and choir. The congregation participates in silence.
Compline marks a place between: the transition into darkness and the dormancy of sleep, a time when we put away the remains of the day as preparation to reconnect to our deepest call to life.
Doors open at 7:30 to allow for those who wish time for undisturbed silence. The service begins at 8 and lasts no more than a half hour. Doors will be locked at 9. This also allows additional time after Compline to gently disengage before leaving.
Listen to the close of Compline.
Our daily lives are full of activity and sound and multi-tasking and hurrying. Come join us, on the first Sunday of each month, the first day of the week, for a half hour of quiet and calm. Compline.