7 pm Housing Forum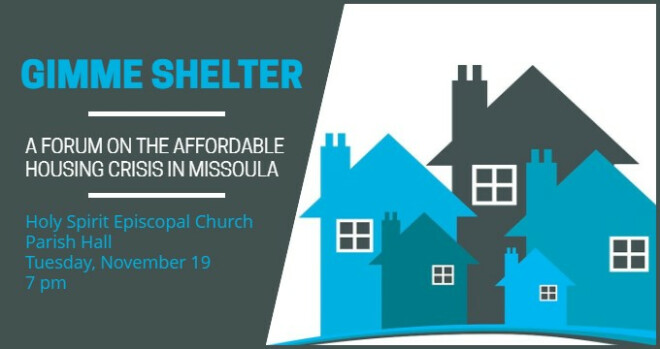 Tuesday, November 19, 2019, 7:00 PM - 8:30 PM
Gimme Shelter: Home Can Be So Far Away
Oh, a storm is threat'ning/ My very life today/ If I don't get some shelter/ Oh yeah, I'm gonna fade away
Just as in the opening lyric of the Rolling Stones' epic anthem, "Gimme Shelter," low-income renters' access to housing is a critical need in Missoula, where real estate prices are soaring, and wages are relatively modest. To learn more about this important issue and possible public and private solutions, Holy Spirit ishosting a forum on Tuesday, Nov. 19, at 7 p.m. in the parish hall.
The forum features Missoula professionals who wrestle daily with the dimensions of this major issue. They include:
Eran Pehan, director of the City's Office of Housing and Development
Andrea Davis, executive director of Homeword Missoula
Zeke Campfield, director of MIC's Housing Advocacy Network
A Missoula renter experiencing housing difficulties will also participate in the 90-minute forum. Following the discussion, there will be time for questions. Look for additional information on this issue on handout sheets at the back of the church and on the parish website. And if you'd like to join in Holy Spirit's advocacy for solutions, the forum will help point the way.