Ash Wednesday, services at Noon and 7 pm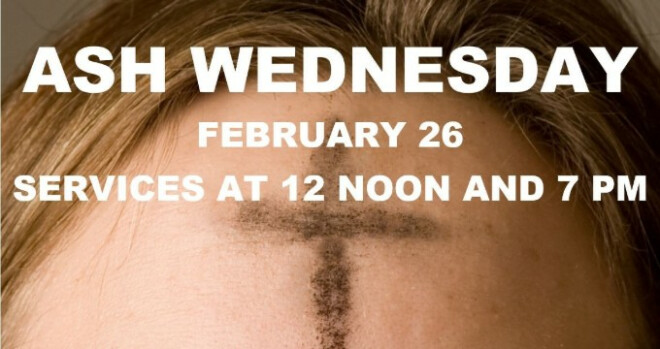 Wednesday, February 26, 2020
Join us for Ash Wednesday services, with Holy Eucharist with Imposition of Ashes, at noon and 7 p.m. in the church.
Ash Wednesday, which marks the beginning of Lent, derives its name from the ancient practice of marking the foreheads of worshippers with ashes from the unused palm branches of the previous year. As the service for Ash Wednesday says:
Grant that these ashes may be to us a sign of our mortality and penitence, that we may remember that it is only by your gracious gift that we are given everlasting life; through Jesus Christ our Savior. Amen.
Join us on Ash Wednesday, February 26, as we begin our Lenten journey to Easter. We will have Holy Eucharist with the Imposition of Ashes at 12 noon and at 7 p.m. that day.