6 pm Inquirers Class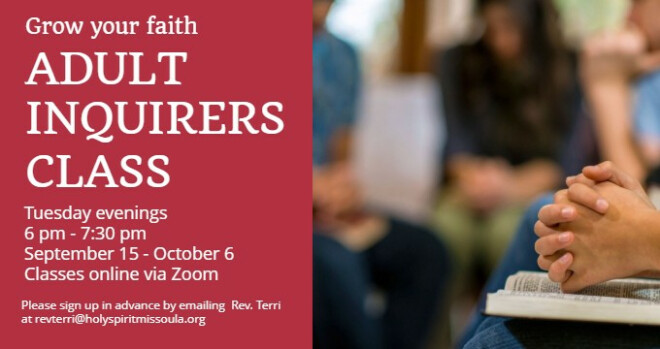 Every Tuesday, from 09/15/2020 to 10/06/2020, 6:00 PM - 7:30 PM
Learn more about the Episcopal Church at Inquirers Classes!
Are you wanting to know more about the Episcopal branch of Christianity? Perhaps you have been joining us online for Sunday worship, or you moved into town recently, and you want to know how to become a member. You may already be a member and just want to learn more or ask some questions. Consider this your invitation to participate in what we call Inquirers Classes. I will be offering these classes online via Zoom on Tuesday evenings, September 15, 22, 29, and October 6, from 6 p.m. to 7:30 p.m.
What's required? I need you to sign up by sending me your name, email address, and mailing address to so that I can get you a small booklet I use to provide us background from which to work. You will be sent a Zoom invitation to link in via computer, tablet, or phone. We at Holy Spirit think the Episcopal Church has much to offer as a community in which to explore and live out your faith. I look forward to hearing from you!
Rev. Terri Grotzinger