3:30 to 6 pm Prayer for the Common Good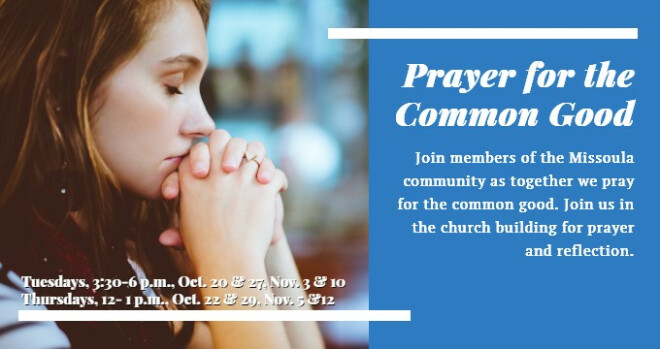 Every Tuesday, from 10/20/2020 to 11/10/2020, 3:30 PM - 6:00 PM
Join members of the Missoula community as together we pray for the common good. There are so many concerns before us to lift up, from the ongoing pandemic, to systemic racism, division, hurricanes, fires, and upcoming elections. We will begin to open the church building for prayer and reflection on Tuesdays from 3:30 to 6 p.m. and on Thursdays from noon to 1 p.m. Come and spend some quiet time in the pews. Seek God's wisdom and solace in the beauty of this place, and hold our community, country, and world in prayer as together we seek the common good.
When you come to church, please wear a mask and know that the host will help seat you appropriately distanced from others. We ask that you use the provided wipes to clean the pew as you leave.
If you're praying from home, consider using Prayers for National Life in the Book of Common Prayer, starting on page 820.
Here are the dates to join us:
Tuesdays, 3:30 - 6 p.m.
October 20 & 27 and November 3 & 10.
Thursdays, 12 - 1 p.m.
October 22 & 29 and November 5 & 12.