Warm Hands, Warm Feet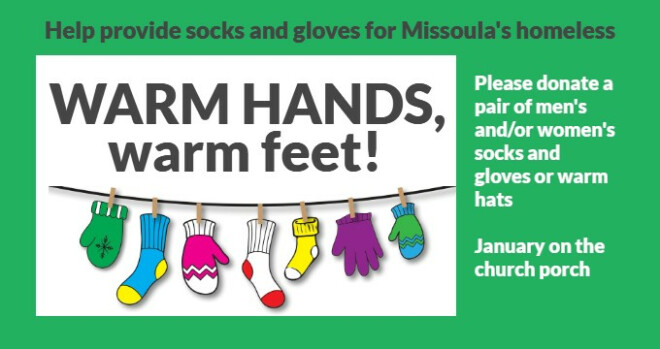 Every Sunday from 01/03/2021 to 01/24/2021
Thanks to everyone who already has donated toasty socks, colorful scarves, snug hats and cozy gloves in our drive to collect winter apparel for residents of the Poverello Center, the city's shelter for homeless men and women. We recognize that this is a difficult time to give. Many of us are struggling financially or feeling overwhelmed, or just don't feel safe shopping in person in local stores Because of these challenges, we are extending our collection for an additional week, through Sunday, January 24. Parishioners can place their donations in bins located at the church and on covered porches (listed below) throughout the city. Those who still wish to donate (maybe try smile.Amazon.com and help Holy Spirit as well!) but feel unable to drop off their items at any of the collection sites, please contact the church or me directly at . I am happy to don my mask and pick them up if you place them outside your door.
Please drop off those cozy socks, hats, gloves and scarves for homeless men and women into any one of seven bins scattered on parishioners' covered porches throughout Missoula. Water-tight bins will be available to collect your donations for residents of the Poverello Center, Missoula's shelter for homeless individuals, beginning the weekend of Sunday, January 3, and continuing through Sunday, January 24.
You may leave your donations in a bin outside the Holy Spirit Parish church office at 130 South 6th Street East (be careful not to block the door!) and on Missoula porches of the following generous parishioners and friends:
Peter Hagestad
3927 Youkshire Place (Pleasantview Neighborhood)
Anne Cohen
713 South 3rd Street West
Glenn Hladek
1331 Harrison Street (Rattlesnake Neighborhood)
The Ven. Dorcie Kafka Dvarishkis
4323 North Avenue West
Kate Laney
280 Stonybrook Drive (Orchard Homes Neighborhood)
Carol Gordon
454 Kensington Avenue (Near Mount)
Thanks to all of you who agreed to have a collection bin placed on your porch. Many of you reached out to your neighbors mentioning our drive, which has helped to extend our circle of contributors during this difficult time. We appreciate your willingness to help beyond what was asked.
Once again, we are looking for warm socks, hats, scarves and gloves (store-bought, handknit, or clean and regifted) to help provide warmth for our homeless brothers and sisters who spend many hours of their days outdoors in Missoula's chilly winter weather. Please remember: socks should be made from wool or synthetic material such as Thermolite. No cotton socks, please! Cotton does not keep out the cold and fails to wick away moisture, making feet feel cold and damp.
Thanks so much for your help with this important drive. Questions? Please email Lucia Solorzano Work at .