Advent Mini-Retreat, 6 - 9 pm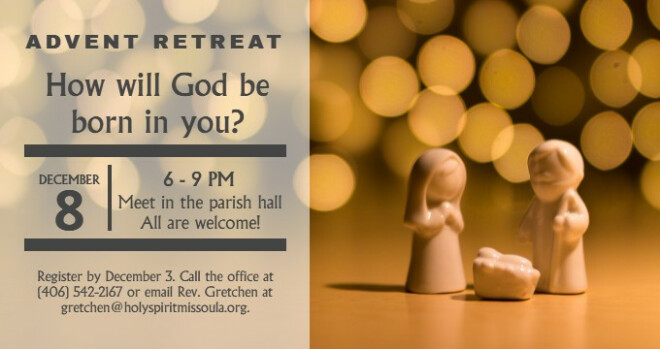 Wednesday, December 08, 2021, 6:00 PM - 9:00 PM
Advent Mini-Retreat: How will God be born in you?
Set aside Wednesday evening December 8th and plan to join other members of your church family for this mini-Advent retreat from 6:00 – 9:00 pm. Set the tone for the season of Advent. Allow yourself to exhale and decompress from the pace of daily life. Share a simple meal of soup and bread. Light a candle as we gather in the chancel. Pray. Meditate. Journal. Write some poetry. Explore some creative opportunities with collage, drawing or painting. Feel free to use the time in the way that is most nurturing to you. Make it the Advent retreat that you need. Basic supplies will be provided. We'll bring the retreat time to a close with some sharing about our experience.
Jan Richardson in her book, In Wisdom's Path, explores the idea that Christ was born in a cave and that we each "carry a cave, a hidden place within us, into which God longs to be born." Advent, she claims, is a season to enter the cave of our hearts, to "turn inward and encounter the God who seeks to emerge through us."
Rest assured we will take special COVID precautions with masking and distancing during the evening. Please sign up by Friday December 3rd so that we can arrange for food. Call the office 542-2167 or email Reverend Gretchen at . Let us know as soon as possible if you need childcare for this event.