The Good Book Club: Jan. 6 - Mar. 1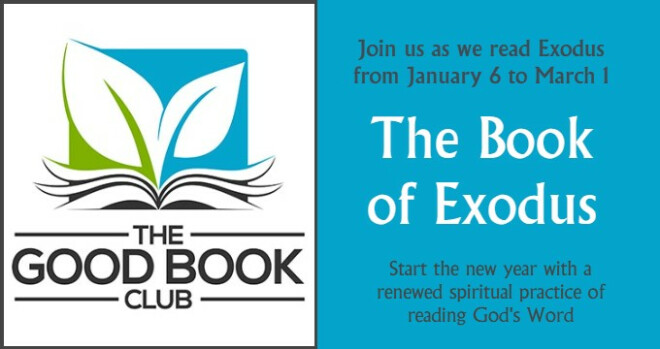 Every Thursday, from 01/06/2022 to 03/01/2022, 6:00 PM - 7:00 PM
The Good Book Club Begins Again…Epiphany 2022: January 6th
This year the focus for study will be the book of Exodus. The second book of the Bible, Exodus recounts the journey of the Israelites from slavery to freedom. We hear the great stories of Moses, from his discovery by Pharoah's daughter on the bank of the river to the burning bush to his presentation of the Ten Commandments. Along the way, we encounter God's covenant and explore the grand theme of redemption.
This year the Good Book Club will dive into the first twenty chapters of Exodus from Epiphany, January 6, to Shrove Tuesday, March 1. For those who want to keep reading, we'll offer a daily reading guide and an overview of the second half of Exodus. That reading period will conclude on Easter.
Make plans now to join Forward Movement and partner organizations from across the Episcopal Church to study the book of Exodus during Epiphany. This link https://www.goodbookclub.org/get-involved/ enables you to receive updates on Exodus. And you can view and download readings here https://www.goodbookclub.org/readings/.
Resources to support your study:
This Week in Exodus: Weekly emails by Forward Movement will preview the upcoming readings to provide context and background. The emails also will feature the ministries of partner organizations. To sign up for this resource visit: https://www.goodbookclub.org/get-involved/
Introducing Exodus with Vicki Garvey: For six weeks this Epiphany, meet with other students from around the world for a live, online class on the Book of Exodus with Vicki Garvey, a respected teacher and author and canon for lifelong education at the Episcopal Diocese of Chicago. In this free class, Vicki will teach about the context and themes of the Book of Exodus. Classes will meet live on Thursdays at 8 p.m. EST starting January 6. To register visit: https://www.churchnext.tv/library/live-course-the-book-of-exodus-with-vicki-garvey-173158/377724/about/
Explore Exodus at Home: Building Faith, a ministry of Lifelong Learning at Virginia Theological Seminary, and GrowChristians, an online community of faith, have partnered to prepare weekly activities for adults and children to explore the Book of Exodus. Visit GrowChristians.org to download the activities or sign up for the weekly email.