Blood Drive, 1 - 6 pm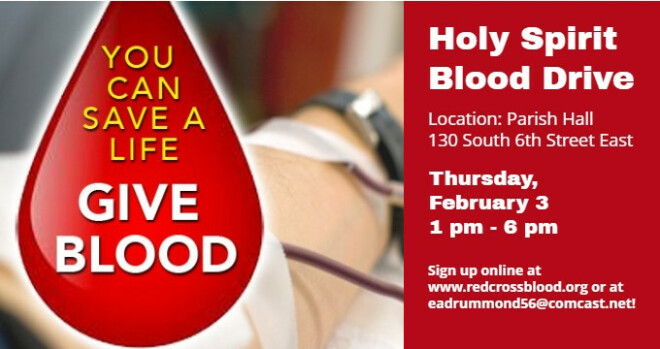 Thursday, February 03, 2022, 1:00 PM - 6:00 PM
The Red Cross is experiencing the worst blood shortage in over a decade. It has had to reduce the amount of blood products it provides hospitals by as much as 25% in recent weeks, forcing hospitals to defer patient surgeries, including organ transplants. Hospital demand remains strong, but fewer people are donating blood.
Here's our chance to help. Holy Spirit Parish will host its annual winter blood drive on Thursday, February 3, from 1:00 – 6:00 p.m. in the Parish Hall. You can sign up for an appointment to donate blood using the Red Cross online scheduling system at www.redcrossblood.org or by contacting Elizabeth Drummond (406-240-8873; ).
The basic requirements to donate are:
You must be in good health and feeling well.
You must weigh at least 110 pounds.
If you are not yet 18 years old you must have a consent form signed by your parent or guardian.
You may still donate blood after receiving a COVID-19 vaccine. You will need to provide the name of manufacturer of the vaccine you received when you come to donate.
As usual, we need volunteers to register donors and serve refreshments. To volunteer, please contact Elizabeth. We look forward to seeing you at the Holy Spirit Parish Blood Drive!