Annual Meeting - 12 noon via Zoom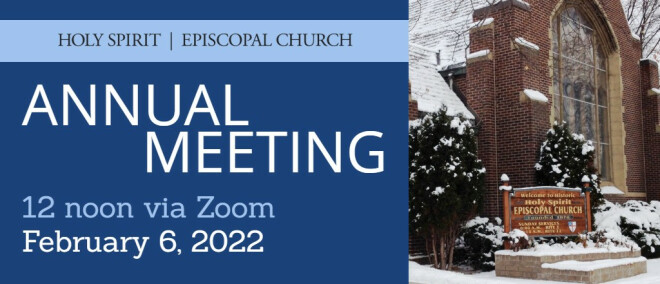 Sunday, February 06, 2022, 12:00 PM - 1:30 PM
ANNUAL MEETING SET FOR FEBRUARY 6
Our Annual Meeting has been moved from its usual January meeting date to February because Rev. Terri and others from our congregation will be on a pilgrimage trip to the border to learn more about the Rio Grande Borderlands Ministries the last week of January. As a result, our Annual Meeting will take place on Sunday, February 6, at 12 noon via Zoom. It will be a briefer meeting to conduct the specific voting required to elect new Vestry members and the Parish Representative to the Holy Spirit Memorial Board and review the 2022 budget. More details will follow as we determine what is necessary to effectively handle the annual business of the parish. We will design the worship of the day and the Annual Meeting in concert with one another, but without the traditional time of fellowship and sharing lunch in the Parish Hall.
Do save the date and plan to attend this very important Annual Meeting. In addition to electing new members to the Vestry, delegates to next fall's Diocesan Convention will also be elected. This is your church meeting, and we hope you will join us virtually to help get the year off to a great start for our parish!
Are you interested in signing up to be a delegate to Diocesan Convention?
Click here to learn more.