Packer Meadows Camas Fields Field Trip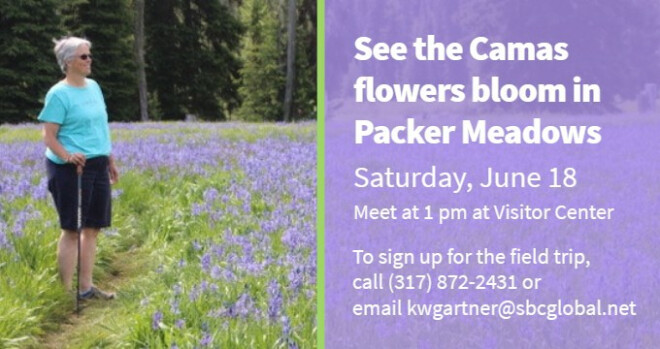 Saturday, June 18, 2022, 1:00 PM - 4:00 PM
Creation Care's Field Trip to the Camas Fields June 18
Creation Care will again be hosting a trip to Lolo Pass and Packer Meadows on June 18 to see the Camas flowers in bloom. This annual event draws people from all over the US as Packer Meadows turn a deep blue. This natural event is one all Montanans should see at least once. These are the fields where Lewis and Clark's expedition passed through on their way to the Pacific. Many Indigenous tribes gathered in these fields to harvest the bulbs of the Camas which were a staple in their diet. You can learn about the importance of these flowers and method of preparation by the Nez Pierce Tribe at this link in a video we recorded in Packer Meadows last spring.
We will gather in the parking lot of the Forest Service visitor center at Lolo Pass at 1:00 pm (Missoula Time, the pass is on Pacific time). If you would like to arrive early and bring a lunch, there is a picnic shelter next to the visitor center. After touring the meadows, there is the option of taking a short hike to an overlook of a Lewis & Clark campsite. We can also travel a bit further into Idaho to walk at Devoto Grove, a grove of huge Cedar trees along the Lochsa River.
Contact Warren Gartner to register for the trip, if you have questions, or if you need to carpool to Lolo Pass. (317)872-2431.