Church Picnic 11:30 a.m.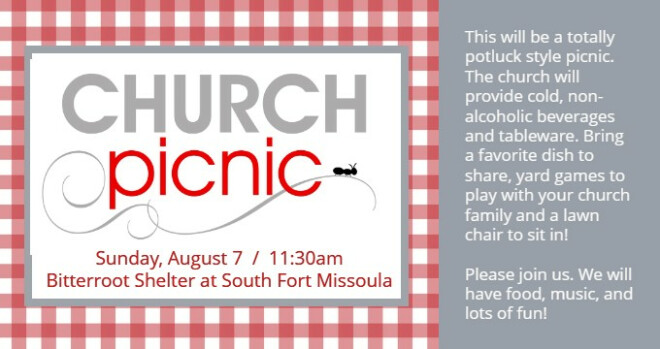 Sunday, August 07, 2022, 11:30 AM - 2:00 PM
Join us for a church picnic on August 7
Join your church family for a picnic on Sunday, August 7. We'll have our regular 9 a.m. worship at the church that morning, but we'll be done in plenty of time so you can go home and get your picnic items and then meet us at the picnic grounds at 11:30 a.m. We have reserved the Bitterroot Shelter by the horseshoe pits at South Fort Missoula this year.
Please note the following change: We are going to change things up and make this a totally potluck style picnic (no hotdogs or hamburgers on the grill this year). The church will provide cold, non-alcoholic beverages and tableware.
Please consider A-H bringing main dishes, I-P bringing salad/vegetables/bread, and Q-Z bringing desserts; and if you like, any alcoholic beverages like beer or wine.
Please bring a lawn chair to sit in and any alcoholic beverages you may wish to imbibe (beer is fine!). You'll want to be sure to bring yard games to play with your church family and some horseshoes if you want to take advantage of those horseshoe pits. We'll have live accordion music again!
Please plan to join us. We have an afternoon planned of good food, lively music, and lots of fun!
Bring: food to share, chair, yard games, tableware