Summer Courtyard Sale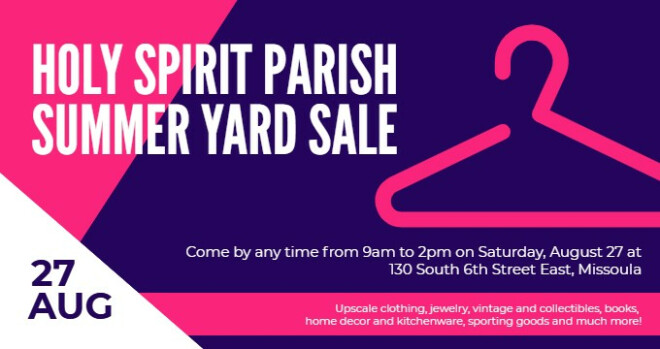 Saturday, August 27, 2022, 9:00 AM - 2:00 PM
Summer Courtyard Sale 2022
Circle Saturday, August 27 on your calendars. Holy Spirit will hold its second annual Courtyard Sale from 9-2 on that very day. And, we need each one of you to help out in the weeks ahead.
What could you contribute? Sale areas will include Boutique Clothing and Jewelry. Home Décor and Kitchenware. Books. Vintage and Collectibles. Sporting goods, Tools and Small Appliances. Every donation in tip top, working, clean condition. Donations will be accepted on Sunday, August 21, Tuesday, August 23 and Wednesday, August 24.
You can also contribute your time in the week preceding the sale. You can help out on sale day! And, for sure, attend the sale.
Watch for more details in the weeks ahead, but please begin now planning on how you can help make this the best Saturday of August! Find out more about our Courtyard Sale