Creation Care Trip to the Bison Range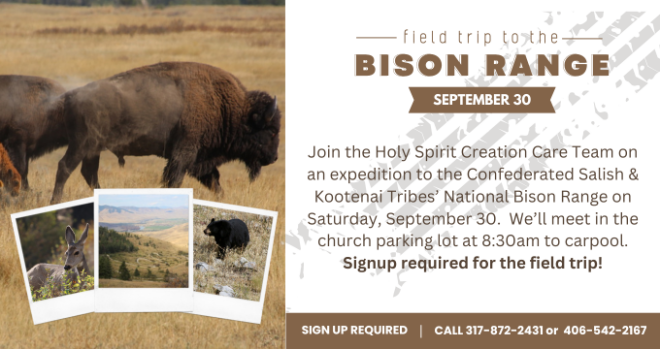 Saturday, September 30, 2023, 8:30 AM - 5:00 PM
Creation Care Trip to the Bison Range
Join the Holy Spirit Creation Care Team on an expedition to the Confederated Salish & Kootenai Tribes' National Bison Range. On September 30 we will meet in the Holy Spirit parking lot at 8:30 AM to organize in carpools, and we plan to leave by 9:00 AM. The drive is about 1 1/2 hours, and we will gather in the visitor center parking lot. We will be met by Emily Rohrlach, the Information & Education Specialist Confederated Salish & Kootenai Tribes CSKT Bison Range. Emily will take us on a tour of the visitor center, share the history of the Bison Range and discuss the connection between the bison and the tribes.
Please pack a lunch (we will bring coolers), and we will then head to the picnic shelter for lunch. Finally, we will drive the loop road around the refuge to look for wildlife. The drive takes about 2 hours, so we should be back to church by about 5:00 PM. Each vehicle will need to purchase a $20 pass which we can split between the passengers.
We will need to let the Bison Range know how many of us are coming, so sign up is required. Please either contact the church office 406-542-2167, or Warren Gartner 317-872-2431 or if you would like to come along.