6 to 8 pm An Evening for Rio Grande Borderland Ministries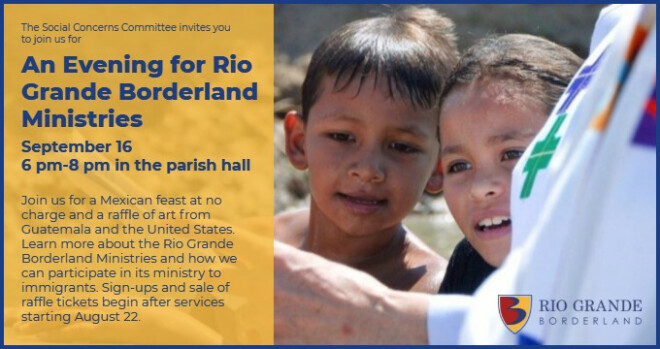 Thursday, September 16, 2021, 6:00 PM - 8:00 PM
An Evening for Rio Grande Borderland Ministries
Is your stomach hungry for some delicious Mexican food? Are your heart and mind hungry to learn about ways that Holy Spirit parishioners can help families in crisis at the U.S.-Mexico border?
If so, the Social Concerns Committee has just the evening for you, signups beginning on Sunday, August 22. The committee is holding a Mexican dinner in the parish hall from 6 p.m. to 8 p.m. on Thursday, Sept. 16, where we will hear via teleconference from members of the Episcopal Diocese of the Rio Grande about its Rio Grande Borderland Ministries (RGBM) to migrant families. While admission to the dinner is free, interested parishioners are asked to sign-up for the dinner now through Sunday, Sept. 12, so committee members know how much food to prepare. There also will be a sign-up list for those parishioners who cannot attend the dinner but wish to participate in the presentation and discussion via Zoom. In addition, parishioners may sign-up for the dinner or Zoom presentation by calling the church office at (406) 542-2167.
Parishioners also have the chance to buy raffle tickets for three wonderful prizes: a story cloth from Guatemala; a modern, migrant-focused framed icon from artist Kelly Latimer, and a dozen of the evening's homemade tamales. Proceeds from the raffle will go to further the RGBM's work. Raffle winners need not be present at the dinner to win. Tickets are $5 for one ticket and $20 for five.
Want to learn more about the RGBM before the dinner? Visit its website at riograndeborderland.org. Hope to see you at the sign-up table and again at the dinner on Sept. 16, in person or via Zoom!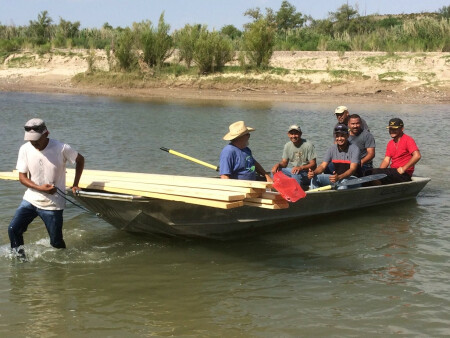 The Rev. Michael Wallens, Vicar of St. Paul's Episcopal Church in Marfa, Texas, oversees the ministry of RGBM in the Big Bend region of the Episcopal Diocese of the Rio Grande, working with partners in Ojinaga and Boquilla, Mexico, and with partners on the U.S. side of the borderlands. Mike recently met with the Border Patrol in his area to discuss how RGBM will be a response when Title 42 is lifted, ensuring that our migrant neighbors are embraced in the service of justice, the interest of dignity, and the spirit of love. Click here or on the image below to watch his update providing an overview of what is happening at the border and their current priorities. The video is about ten minutes long, and includes a mention of Holy Spirit as a partner, and an update from Robinson Ford, a youth in their diocese who founded Saved Soles for Migrants to collect and donate shoes that still have life left in them.