Blessing of the Animals, 8 am online and in person at 10:15 am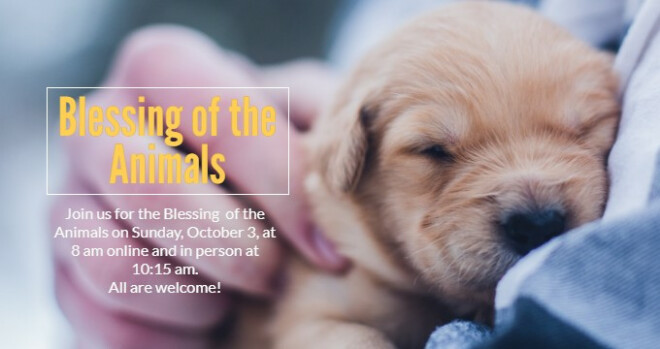 Sunday, October 03, 2021
For the 10:15am service:
The Blessing of the Animals in Sunday Worship, Oct. 3
On Sunday, October 3rd, the last Sunday in the liturgical Season of Creation, we will incorporate the Blessing of the Animals directly into the 10:15am in-person worship service. The church will be marked into areas: one for those with dogs on leash or in a carrier, one for those with cats in carriers, and those with other animals leashed or otherwise contained. The liturgy of worship will reflect a few adjustments to make this happen, and Covid-19 protocols for mask wearing and spacing will be in place. This has been done in churches worldwide, large and small, and we can enjoy it too. Please plan to come with plenty of time to walk your pets before they come in. Water bowls, cleanup bags and garbage containers will be available outside for your use.
For the 8:00am pre-recorded service:
A virtual Blessing of the Animals will be held on Oct. 3rd for those who are unable to attend in-person worship. It is a joy for those who have no pets to see others with theirs so we invite you to send a picture of your pet, or a picture of you or your family with your pet(s) so that our videographer, James Gartner, can weave those into our online worship for the day. Please email pictures to by no later than 9am on Monday, September 27, so that he will have time to do his work.